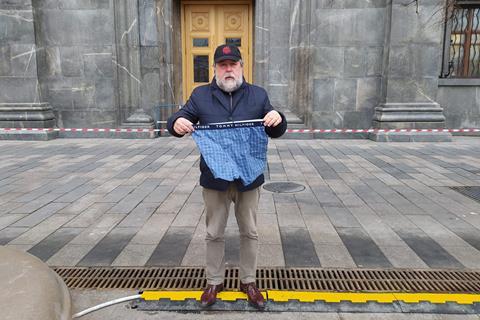 Russian documentary director Vitaly Mansky (Putin's Witnesses, Gorbachev. Heaven) has revealed what happened earlier this week when he was detained by police outside the Russian secret service agency premises in Moscow.
In a picture stunt that was viewed by millions across Russia, Mansky was shown in front of the building holding up a pair of blue boxer shorts. This was to draw attention to allegations that surfaced this week that the Russian secret service (the FSB) tried to assassinate opposition leader Alexei Navalny by secreting a toxin on his underpants.
Speaking to Screen International (through an interpreter) from Moscow on Christmas Eve, Manky described the circumstances of his arrest. He had been working nearby the Lubyanka, the headquarters of the FSB, on a project for the TV channel, Current Time TV, with fellow filmmaker Askold Kurov (producer of Welcome To Chechnya).
"After we had finished what we were doing, I wanted to go up to Lubyanka to see if there was anything happening in relation to the Navalny affair and if there were any reactions from Moscow citizens to it," Mansky explained.
When Mansky reached the building, there was no-one there so he decided to have the picture taken of him on his own, holding the blue underpants. (They belong to him). As the photograph was being taken, "a few policemen came up and then a few more appeared and then a few more appeared. Then they took me into a prison car."
The director was driven to a nearby police station and his underwear was confiscated as evidence. He was kept in detention for three hours.
"They behaved with me in an intentionally delicate way," he said. "When one of the police officers recognised me, he even said 'I never thought I would see you in my office.'"
Mansky has been told that there will be a court hearing. No date has been set for this as yet.
Mansky, who lives in Riga, is having to stay in Moscow pending the court hearing. It is not yet clear what he will be charged with.
He said that "everyone in Russia" knew why he had been pictured with the underpants.
Navalny's YouTube video of an interview with the secret agent who put poison on his boxer shorts went viral in Russia where it is estimated to have been seen by 18-20 million viewers. The video has prompted a flood of sarcastic jokes at the expense of the secret service.
Mansky warned, though, that humour on its own won't bring political change. "Our dictator has basically cancelled real elections. Laughter in this case is not so effective. We need other more harsh and strong methods to deal with such dictators," the director said in reference to President Putin.
Striking a downbeat note, Mansky pointed out that the Russian Parliament has passed strict new laws giving the government the right to block online videos like the one posted by Navalny. He also said that out of the many millions who watched the Navalny video, hardly anyone had protested as a result.
Mansky's most recent film Gorbachev. Heaven (sold by Deckert Distribution) premiered at IDFA last month. It was also shown earlier this month in Moscow as part of the special screenings organised through Mansky's ArtDocFest.
However, a planned screening in St Petersburg had to be cancelled after the authorities said that the venue wasn't "Covid-safe."
Mansky is now planning a private screening for the film's subject, former Soviet President Mikhail Gorbachev, who wasn't well enough to attend the public screening.
Navalny is a regular attendee at ArtDocFest. He and Mansky know each other but are not, the director said, in any kind of "continuous contact."