The safeguarding of attendees and workers at film festivals and cultural events was in the spotlight at the 2017 UK exhibition conference This Way Up.
Topics at the event (Nov 7-8) included diversity in the film industry, innovation in exhibition and technological developments such as VR. But the most prominent was the sexual misconduct allegations that have been made against high profile film industry figures, including producer Harvey Weinstein and actor Kevin Spacey.
Several of the incidents are said to have taken place at film festivals, and that has forced the exhibition industry to question its ability to safeguard its workers and customers. A panel held on This Way Up's second day attempted to address the topic head-on.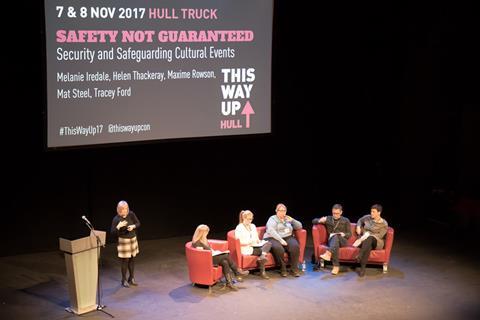 Code of conduct
Hosting the discussion, Melanie Iredale, the deputy director of UK documentary festival Sheffield Doc/Fest, opened proceedings by citing recent reports run in industry press exposing a culture of misconduct at film festivals.
Iredale noted that the nature of these events, with attendees being away from home and enclosed in a festival bubble, led to some people "feeling they can get away with certain behaviours".
"At Doc/Fest, we have been encouraged to think about what more we can be doing," Iredale added, "We need to encourage a culture of reporting, and not just the victims – if you see it, say it."
The session was hosted as a 'safe space', with audience members encouraged to participate under anonymity, and one attendee asked if there should be an industry-wide code of practice available to all organisations in the exhibition field.
This could be useful for cinema owners and festivals heads to train their staff, they suggested, and would be more efficient than individual organisations developing their own guidelines.
The panel said that no such code of practice existed at the moment, but Helen Thackeray, events officer of Hull City of Culture 2017, noted that support does exist at local government level for organisations looking for guidance.
"There are people like me in local government across the country who are willing to lend help to film festivals. The doors are always open with our advisory groups," she said, noting that councils run specific programmes to combat sexual discrimination and harassment.
Another audience member suggested that industry trade body the UK Cinema Association (UKCA) should be inputting on this topic and producing a set of guidelines that its members could follow.
"Should there be an industry code of practice that we can sign up to?" They posed. "If they [the UKCA] is not producing guidance, we should be asking them – many of us should be writing to them to ask for that."
Screen reached out to the UKCA for comment on the idea, and the organisation confirmed that the topic was currently under discussion.
Separately, the BFI is also exploring the idea of developing its own code of conduct for the industry, and is currently in consultation with a range of industry partners, and the government's Advisory, Conciliation and Arbitration Service (Acas), "to develop a new set of principles to address bullying and harassment and help people in the industry to be better supported."
Other avenues
Maxime Rowson a volunteer at Rape Crisis Tyneside and Northumberland, also highlighted the initiative Safe Gigs for Women, which is an initiative that focuses on music events but has ideas that could be effectively used by film festivals.
Iredale added that one group, the Raising Films initiative, a campaigning organisation that looks at equality in the industry, has published an open letter to the UK film industry addressing harassment and discrimination.
The letter, which contains five suggestions for the industry, is available online and organisations can opt to sign it to show support.
Though not mentioned on the panel, UK production outfit Boudica Films recently launched its own sexual assault campaign which includes behaviour guidelines and a free legal advice service.
To screen or not to screen
As the discussion concluded, an audience member questioned whether exhibitors should continue to screen films produced by Harvey Weinstein or starring Kevin Spacey, for example.
They pointed out that by showing those films, they were arguably continuing to promote and make money for those accused.
In response, another audience member pointed out that Ridley Scott's All The Money In The World had been pulled from its closing night slot at the high-profile AFI Fest in the US because it starred Kevin Spacey.
Since then, director Scott has announced that he will re-shoot all of Spacey's scenes and replace him with the actor Christopher Plummer.
While there were no concrete conclusions, Iredale noted that a conversation about the ethics of showing films by people accused of such conduct was already being had among top brass at Sheffield Doc/Fest.
The 2017 edition of This Way Up was held at the Truck Theatre venue in Hull, the UK's 2017 capital of culture. You can catch up with panels and keynotes from the event by visiting the website here.