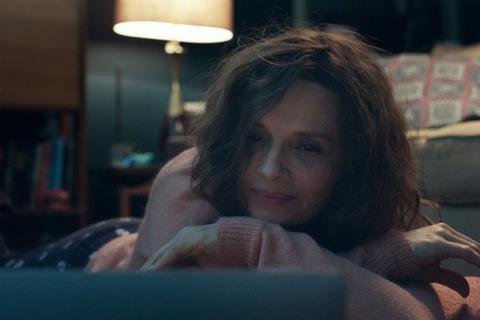 Safy Nebbou's Who You Think I Am has topped UK streaming platform Curzon Home Cinema's (CHC) most-watched films for a second week as audiences continue to seek home entertainment during the lockdown.
A month after all cinemas closed across the UK, in a bid to stem the spread of Covid-19, Curzon's streaming platform reported a 211% revenue increase on the equivalent weekend in 2019.
However, income from April 17-19 was down 31% on the previous weekend, highlighting the importance of launching strong, new titles on a weekly basis.
Romantic drama Who You Think I Am, starring Juliette Binoche, delivered CHC's best ever weekend and biggest three-day opening for a premium VoD title when it launched on April 10. It was brought forward from its planned theatrical release of May 8 to bolster Curzon's online offering while cinemas remain closed.
CHC also reported strong figures last week for its new series of live-streamed Q&As, conducted with filmmakers isolated at home, which recorded more than 28,000 views across interviews for The Souvenir, Diego Maradona and Military Wives.
This weekend will see the launch of Oliver Hermanus' Moffie, on April 24.
CHC's top 10 titles for April 17-19 were:
Who You Think I Am (2019)
The Truth (2019)
Portrait Of A Lady On Fire (2019)
Military Wives (2019)
Knives Out (2019)
The Perfect Candidate (2019)
Sulphur And White (2020)
Lucian Freud: A Self Portrait (2020)
Martin Margiela: In His Own Words (2019)
Leonardo: The Works (2019)
MUBI, BFI Player top titles
UK-based MUBI, which operates as an international streaming platform and distributor, declined to share exact figures but revealed that Brazilian thriller Bacurau, directed by Juliano Dornelles and Kleber Mendonça Filho, has become one of the most-watched films on the platform in the UK and Ireland to date.
MUBI's top 10 for April 13-19 were:
Portrait Of A Lady On Fire (2019)
Bacurau (2019)
Lady Vengeance (2005)
Le Cercle Rouge (1970)
Accident (1967)
My Blueberry Nights (2007)
Neighbouring Sounds (2012)
Blue Valentine (2010)
Coffee And Cigarettes (2003)
Southland Tales (2006)
While the British Film Institute also did not reveal figures for its streaming platform, BFI Player, it did share the most-watched titles from April 13-19:
Subscription
Bait (2019)
Winter Sleep (2014)
Paris, Texas (1984)
The Wild Pear Tree (2018)
White God (2014)
Appropriate Behaviour (2015)
Romance (1999)
Picnic at Hanging Rock (1975)
Aniara (2018)
Once Upon a Time in Anatolia (2011)
Rentals
Knives Out (2019)
And Then We Danced (2019)
Ordinary Love (2018)
La belle époque (2019)
Mr. Jones (2019)
End of the Century (2019)
Vivarium (2019)
The Street (2019)
Pink Wall (2019)
Harriet (2019)