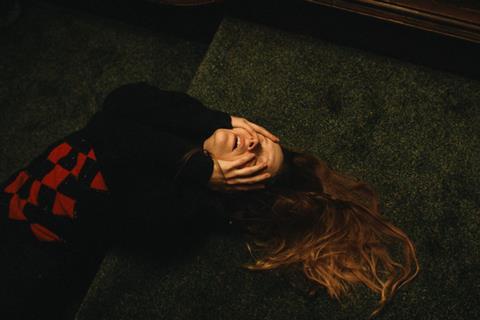 Rose Glass, whose psychological horror feature debut Saint Maud earned an enthusiastic critical reception at its world premiere in Toronto, has won the £50,000 IWC Schaffhausen Filmmaker Bursary Award in association with BFI.
Glass collected the prize at Tuesday night's (October 1) BFI Luminous, the biennial fundraising gala at Roundhouse presented by IWC Schaffhausen and BFI. The NFTS graduate and 2018 Screen Star of Tomorrow was one of three nominees whose first or second film is screening at this year's BFI London Film Festival. The other two filmmakers are Hong Khaou (writer-director of Monsoon), and Rialto director Peter Mackie Burns.
Danny Boyle, lead juror on the Filmmaker Bursary Award, presented the prize to Glass with co-jurors, IWC Schaffhausen CEO Christoph Grainger-Herr, and BFI CEO Amanda Nevill.
Morfydd Clark stars in Saint Maud as a live-in nurse who believes she is on a mission from God. Protagonist Pictures handles international sales.
"Rose Glass is an extraordinary talent and powerful storyteller," said Boyle. "Saint Maud is a genuinely unsettling and intriguing film – all the more so for being a debut. Striking, affecting and mordantly funny at times, its confidence evokes the ecstasy of films like Carrie, The Exorcist and Jonathan Glazer's Under The Skin. Her skill in successfully incorporating original elements to a genre story and finding new ways to offer audiences a thrilling cinematic journey through madness, faith and death signifies Glass as a true original. We wanted to provide her with the time to support and develop her own singular vision as a writer/director by awarding her this unique Filmmaker Bursary."
Glass added, "I feel like I've spent most of my life trying to get a film off the ground and now it is finished and out in the world, it is amazing to be here and receive this prize. It is hugely exciting – thank you so very, very much IWC and BFI."
"We wouldn't have wonderful films if we didn't seek out talent and nurture it for the future," said BFI's Nevill. "I am overwhelmed by the incredible support we've had from so many people for LUMINOUS, including our generous sponsor IWC Schaffhausen, and people across the UK. It is so exciting to know that our BFI education programmes will now reach further to find talented young people of all backgrounds, to open doors and propel them into the industry."
IWC Schaffhausen CEO Christoph Grainger-Herr said: "The IWC Bursary Award is designed to provide really meaningful support to the most exciting new and emerging UK filmmakers. Each and every year we are given the tough choice of judging three exceptionally written and masterfully shot films. I would like to congratulate Rose Glass as well as all our finalists for their creativity and brilliant storytelling."
The BFI London Film Festival runs from October 2-13.