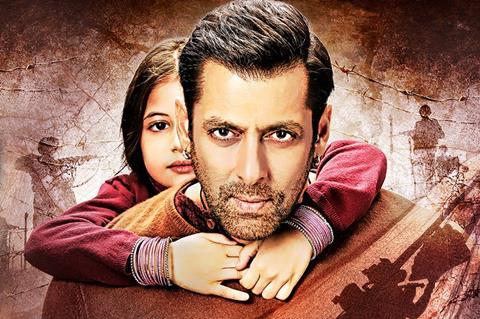 India's Eros International is teaming with China's E Stars Films and Salman Khan Ventures on the Chinese release of Khan blockbuster Bajrangi Bhaijaan.
The film is being dubbed into Chinese and is expected to receive a wide release across 8,000 screens on March 2.
Allen Liu's E Stars Films was also involved in the distribution of Indian blockbuster Dangal, starring Aamir Khan, which became a huge hit in China last year, grossing $190m. Aamir Khan's most recent title, Secret Superstar, opened in China last weekend, also with E Stars Films' support, and is currently topping the box office with $27m in three days.
Directed by Kabir Khan, Bajrangi Bhaijaan stars Salman Khan as a devotee of the Hindu deity Hanuman, who embarks on a journey to reunite a six-year-old Muslim girl with her parents in Pakistan. The film was a huge hit in India when it was released in July 2015, one day ahead of the Eid holidays.
Eros' Trinity Pictures and Kabir Khan are also working with Liu's Peacock Mountain Culture & Media on China-India co-production The Zookeeper (working title), which will be shot in both Hindi and Mandarin.
Eros International group CEO Jyoti Deshpande said: "China has emerged as an important market and major box office earner for Indian films in recent years and we are delighted to partner with E Stars to showcase our film to China…There are no international films releasing during that period in China so we hope to have a fantastic run at the box office in the world's biggest film market."
Liu said: "There is high expectation and curiosity for the film post the success of recent Indian releases in China and the positive word of mouth Bajrangi Bhaijaan enjoys. We anticipate tremendous potential in this beautiful drama starring one of the most popular actors in Indian cinema in a film that speaks the language of emotions like courage and hope which are universal".