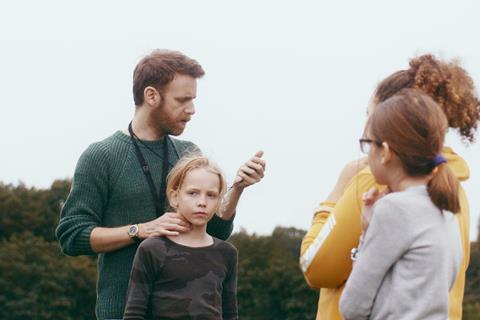 French director Samuel Theis' Softie has won the Golden Alexander-Theo Angelopoulos for best film at Greece's Thessaloniki International Film Festival (TIFF) which took place as a hybrid event from November 4-14. The award is a cash prize of €10,000.
The French production, which premiered in Cannes' Critics Week, follows Johnny, a sensitive and intelligent 10-year-old boy living with his single mother, as he searches for a father figure in his new school teacher.
The international competition jury headed by Belgian film maker Nanouk Leopold also awarded Softie's young lead Aliosha Reinert the best actor award. Sales are handled by the French outfit Totem.
Costa Rican director Nathalia Alvarez Mesen's Clara Sola won the Silver Alexander special jury award, worth €5,000. The film, which launched in Directors Fortnight, is about a 40-year-old woman who fights against her repressed sexuality and the religious and social conditions which have dominated her life in a small rural village. World sales are handled by France's Luxbox.
Venezuela's Lorenzo Vigas won best director and €3,000 for his second narrative feature The Box, a Mexico-US co-production. Vigas returned to Thessaloniki where in 2015 his Venice Golden Lion-winning debut From Afar won best screenplay and best actor (for Alfredo Castro). The Box is a coming of age tale about an adolescent boy from Mexico City who tries to reconnect with his father who lives on the Mexico-US border. Match Factory is handling world sales and the Greek distributor and platform Cinobo is in talks to distribute in Greece.
Lithuania's Laurynas Bareisa won the screenplay award for Pilgrims, which he also directed, a tale of revenge that arrived at Thessaloniki after winning best film in Venice's Horizonti section. UK's Reason8 is handling world sales. Alexandre Koberidze's What Do We See When We Look At The Sky earned a special mention.
Greece's Sophia Kokkali won best actress for Jacqueline Lentzou's Moon, 66 Questions, a Greek, French co-production.
Two separate juries including former Locarno director Lily Hinstin, Austrian film critic and executive Martin Schweighofer, Greek French actress Daphne Patakia (Benedetta) and French producer Marie-Pierre Macia picked the winners for the Meet the Neighbours and newly introduced Film Forward sections. The Meet the Neighbours Golden Alexander for best film €8,000 was awarded to Laura Samani's Small Body. The Film Forward Golden Alexander went to Yorgos Goussis' Magnetic Fields.
Industry prizes
TIFF's Agora industry section showcased 14 projects in the Crossroads Co-Production Forum and a further 8 films in the Agora Works in Progress section.
Cypriot director Alexandra Matheou's Shibboleth won the Crossroads Co-Production Forum award. Produced by Tonia Mishiali for Bark Like a Cat Films the film will receive full post-production image and sound services from Greek company 2/35.
Kosovar director Zgjim Teziqi's 2000: A Post-War Odyssey produced by Valmira Hysemi for Plan Bee Films received the French CNC development award, worth €8,000.
Greek director Yiorgos Fourtounis' Prometheus produced by Eleni Kossyfidou for Blackbird Productions received the Finos Film Award worth Euros €3,000.
The work in progress awards were won by Nikos Pastras' Bastards, produced by Nicholas Alavanos for Filmiki Productions, which received the Onasis Foundation Cinema Award worth €10,000, and Christos Passalis' Silence 6-9, produced by Maria Drandaki for Homemade Films, which collected the ERT-Greek Public TV award worth €2,000.