Alberto Rodríguez, Carlos Vermut, Jon Garaó and JM Goneada will premiere their new titles.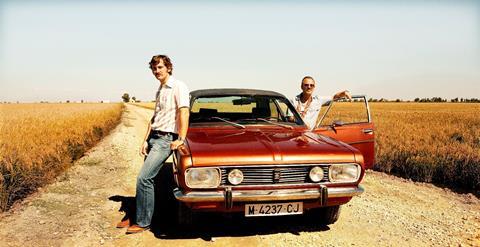 The 62nd San Sebastian Film Festival (Sept 19-27) has revealed the three Spanish titles that will compete for the Golden Shell at this year's event.
Filmmaker Alberto Rodríguez will screen Marshland (La isla mínima), a thriller set in post-Franco Spain about the disappearance of two teenage girls that combines dark thriller elements with the trauma of a country freshly out of a dictatorship. José Antonio Félez (Cousinhood, Family United) produces.
Carlos Vermut hit big with his self-produced debut, Diamond Flash, a personal film about a mysterious superhero.
His second feature, Magical Girl, is more mainstream and tells the story of an unemployed father who will do anything to buy his daughter her dream dress. Legendary actor José Sacristán is cast in the film, which deals with the current economic crisis impacting Spain.
A surprise came with the selection of Loreak - the Basque word for flowers - by directing duo Jon Garaño and Jose Mari Goneaga, who achieved critical acclaim with their first film For 80 Days.
Loreak tells the story of three women who will discover their inner feelings and share a bouquet of flowers.
Fourth film coming
The announcement was made this morning at the Spanish Film Academy, with an audience that included the protagonists of each film.
Jose Luis Rebordinos, director of the festival, told ScreenDaily: "It has been a very good year for the quality of Spanish cinema, we are so proud. There will be a fourth film in competition this year that will be announced at a later date.
"The quality of Spanish films do not get the international recognition they deserve. These are complicated times but beyond our differences we have to fight as one man for the future of this industry."
More Spanish titles
Spanish films in other sections of the festival were also revealed.
Golden Shell winner Isaki Lacuesta (The Double Steps) will screen in the Official Selection out of competition his new feature, Murieron por encima de sus posibilidades (They Died Beyond Their Means) a satire about the economic crisis that centres on a gang that kidnaps a big bank chairman. The cast includes Sergi López, Ariadna Gil, Raúl Arévalo and Eduard Fernández.
Lasa y Zabala, by Pablo Malo, will also be screened out of competition. It's based on a true story, well known in Spain, about the killing of two Basque terrorists by the government in the 1980s.
"There is a lot of diversity in Spanish cinema," said Rebordinos. "But we do see a lot of concern around our current difficulties. Even genre films have a connection with reality, which only makes them more interesting".
Iciar Bollaín (Even the Water) will debut her documentary In a Strange Land (En tierra extraña) about the lives of young Spaniards who have emigrated to foreign countries in search for work.
Borja Cobeaga will premiere The Dealer (El negociador), a comedy set amid peace talks between the Spanish Government and Basque terrorist group ETA. Cobeaga scored success with A Spanish Affair, a comedy he wrote that grossed more than $70m at the box office.
For the Kutxa-New Directiors Prize, Roberto Castón with compete with The Silly Ones and the Stupid Ones about contemporary characters going through a personal crisis. Hermes Paracuellos will screen Spain-Colombia co-production It's Not Vigil, a love story between an old couple.
Finally, in Horizontes Latinos, a section for Latin American films, the festival will screen last year's winner of the Films in Progress industry award, La salada, a portrayal of Chinese inmigrants in today's Buenos Aires. Juan Martín Hsu directs.