Three Spanish titles will compete for this year's Golden Shell.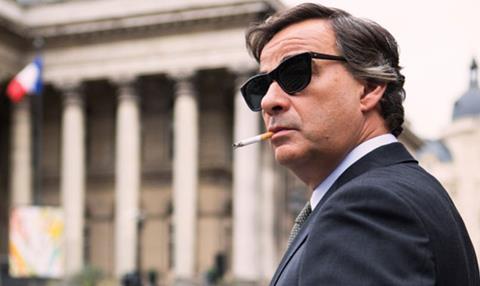 Scroll down for full line-up
This 64th San Sebastian Film Festival (Sept 16-24) has revealed the line-up of Spanish titles that will play across its sections.
There will be a total of 15 Spanish-produced films on show, including four shorts.
Competing for the Golden Shell – the festival's top prize – will be Alberto Rodríguez's El Hombre De Las Mil Caras (Smoke And Mirrors), Rodrigo Sorogoyen's Que Dios Nos Perdone (May God Save Us) and Jonás Trueba's La Reconquista (The Reconquest), all of which are world premieres.
Goya Award-winning director Alberto Rodríguez is nominated for his third Golden Shell following 2014's Marshland and 2005's 7 Virgins. El Hombre De Las Mil Caras (Smoke And Mirrors) [pictured top] tells the story of spy Fransisco Paesa.
Rodrigo Sorogoyen presents his third feature Que Dios Nos Perdone (May God Save Us) – following 2013's Goya-nominated Stockholm – which tells the story of a detective duo hunting a serial killer in Madrid while the city anticipates the arrival of the pope.
Jonás Trueba, a Goya nominee for his 2010 film Todas Las Canciones Hablan De Mí, is presenting his fourth feature, La Reconquista (The Reconquest), a romantic drama about a man and a woman who try to reignite their love after 15 years apart.
Elsewhere in the programme, Pablo Larrain's Cannes premiered Neruda (a Spanish co-pro), about a detective who hunts down the Nobel Prize-winning poet Pablo Neruda, will play in the Pearls section, dedicated to films that have had success at other festivals but have yet to receive a Spanish release.
As announced last week, J.A. Bayona's A Monster Calls, starring Felicity Jones, Sigourney Weaver and Liam Neeson in the story of a boy who makes friends with a tree monster, will receive its European premiere out of competition at San Sebastian following its world premiere in Toronto. Bayona's The Impossible also had its European Premiere at San Sebastian in 2012.
Sigourney Weaver will also be presented with a Donostia Award, the festival's honorary prize, which in recent years has been awarded to Emily Watson, Benicio Del Toro and Denzel Washington.
In the Horizontes Latinos section, last year's Films in Progress winner Eliane Caffé will premiere his Spanish, Brazilian, French co-production Era O Hotel Cambridge (The Cambridge Squatter), which depicts a group of homeless refugees who squat in an abandoned building in Sao Paulo, Brazil.
The festival will also host the premiere of Kalebegiak, a collection of 12 vignettes that celebrate the city of San Sebastian as the 2016 European Capital of Culture.
Line-up of Spanish titles
WP = World premiere
EP = European premiere
In competition
El Hombre De Las Mil Caras (Smoke And Mirrors), Alberto Rodríguez WP
Que Dios Nos Perdone (May God Save Us), Rodrigo Sorogoyen WP
La Reconquista (The Reconquest), Jonás Trueba WP
Out of competition
A Monster Calls, J.A. Bayona EP
Special screening
Manda Huevos, Diego Galán WP
Vivir y Otras Ficciones (Living And Other Fictions), Jo sol WP
New directors
María (Y los Demás), Nely Reguera WP
Horizontes Latinos
Era O Hotel Cambridge, Eliane Caffé WP
Pearls
Zabaltegi – Tabakalera
Sipo Phantasma (Ghost Ship), Koldo Almandoz WP
Caminan (On The Path), Mikel Rueda [short] WP
Gure Hormek (Our Walls), Maria Elorza, Maider Fernandez Iriarte [short] WP
International Film Students Meeting
Celebració (Celebration), Pau Cruanyes Garrell, Gerard Vidal Barrena [short]
Take Away, Geórg Cantos [short]
Velodrome
Kalebegiak, Koldo Almandoz, Asier Altuna, Luiso Berdejo, Daniel Calparsoro, Iñaki Camacho, Borja Cobeaga, María Elorza, Telmo Esnal, Maider Fernandez Iriarte, Isabel Herguera, Ekain Irigoien, Julio Medem, Izibene Oñederra, Gracia Querejeta, Imanol Uribe WP