Jasmila Žbanić film among 23 competing in doc strand.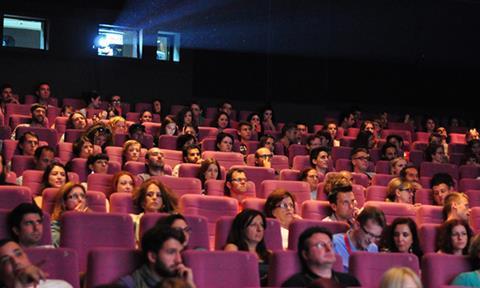 Scroll down for full list of films
Jasmila Žbanić (Grbavica) documentary One Day in Sarajevo is among 23 titles set to compete in the documentary strand of the 21st Sarajevo Film Festival (August 14-22).
The line-up includes six world premieres, eight international premieres, three regional premieres and six Bosnia & Herzegovina premieres.
Yesterday the festival announced a lineup of 71 actors, directors, DoPs, film critics, producers and screenwriters for its 2015 Talents Sarajevo initiative.
Last year's documentary competition was judged by Ananda Scepka (Locarno Film Festival), director Srđan Šarenac (Loca de amor) and director and producer Stefano Tealdi (The Queen of Silence).
The Heart of Sarajevo award, presented to the best documentary film, was given to Tiha K. Gudac for Naked Island (Goli).
World Premieres
Chasing A Dream / U potrazi za snom
Bosnia and Herzegovina, Serbia, Croatia, 2015, 145 min.
Director: Mladen Mitrović
The Fog Of Srebrenica / Izmaglica Srebrenice
Bosnia and Herzegovina, 2015, 60 min.
Director: Samir Mehanović
Harm / Seb
Hungary, 2015, 52 min.
Director: Dénes Nagy
Home / Dom
Slovenia, 2015, 82 min.
Director: Metod Pevec
One Day In Sarajevo / Jedan dan u Sarajevu
Bosnia and Herzegovina, 2015, 60 min.
Director: Jasmila Žbanić
Self Reflection / Autorefleksija
Bosnia and Herzegovina, 2015, 10 min.
Director: Nedim Alikadić
International Premieres
Eoha
Montenegro, 2015, 22 min.
Director: Vladimir Perović
Green Walls, Black Food / Zeleni zidovi, crna hrana
Macedonia, 2015, 17 min.
Director: Sandra Gjorgieva
I Like That Super Most The Best / Lijepo mi je s tobom, znaš
Croatia, 2015, 42 min.
Director: Eva Kraljević
Minor Border
Austria, 2015, 25 min.
Director: Lisbeth Kovacic
Russian / Rus
Bosnia and Herzegovina, 2015, 60 min.
Directors: Damir Ibrahimović, Eldar Emrić
Through My Lens / Artik Hayallerim Var
Turkey, 2015, 62 min.
Director: Nefin Dinç
Tititá
Hungary, 2015, Colour, 85 min.
Director: Tamás Almási
The Unidentified
Bosnia and Herzegovina, Serbia, Kosovo , 2015, 39 min.
Director: Marija Ristić, Nemanja Babić
Regional Premieres
Chuck Norris u borbi protiv komunizma / Chuck Norris vs Communism
Romania, Germany, UK, 2015, 81 min.
Director: Ilinca Calugareanu
Exotica, Erotica, Etc
Greece, France, 2015, 73 min.
Director: Evangelia Kranioti
Karst
Serbia, France, 2015, 80 min.
Director: Vladimir Todorović
B&H Premieres
Cain's Children / Káin Gyermekei
Hungary, France, 2014, 104 min.
Director: Marcell Gerő
Drifter
Hungary, Germany, 2014, 72 min.
Director: Gábor Hörcher
Flotel Europa
Serbia, Denmark, 2015, 71 min.
Director: Vladimir Tomić
In the Dark / U mraku
Serbia, 2014, Colour, 60 min.
Director: Goran Stanković
Over the Years / Über Die Jahre
Austria, 2015, 188 min.
Director: Nikolaus Geyrhalter
Toto and his Sisters / Toto Şi Surorile Lui
Romania, 2014, 93 min.
Director: Alexander Nanau