Panels highlighted opportunities for filmmakers from the region to make TV content.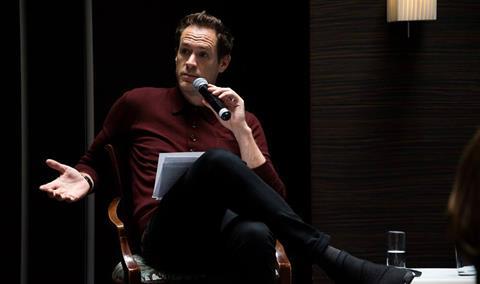 This year's CineLink programme at the Sarajevo Film Festival shone the spotlight on TV drama, highlighting opportunities for filmmakers in the region to make small screen content.
"There's a move towards TV series and there's a lot of potential for growth there, in this region and the rest of the continent. Festivals will become important for series, we are witnessing this at Sarajevo now and I can only see it growing," commented the festival's industry chief Jovan Marjanović to Screen before the festival.
Sessions included a tutorial on how to pitch TV drama projects and an insider's look into the concept of a writers' room, both of which you can read below.
Pitching
The MIDPOINT international script and project development program was held at Sarajevo's CineLink this year, with budding screenwriters given the opportunity to learn from a variety of established industry personalities.
Production and development executive Klaus Zimmermann hosted a session in which he talked about how budding filmmakers could optimise their pitches for TV drama series.
He began by insisting that the production of high-end TV drama was on the up but also only just beginning, saying that he saw a "strong future" for local talent.
"The road between the pitch and the greenlight is long and hard," he warned, suggesting that many of the attending talent would face tough journeys to get their projects made.
However, he added that "there's a lot of money out there today" and that this was because "content has become king again".
One of the deeper-pocketed creators of TV content around at the moment is SVoD giant Netflix, but Zimmermann warned that the company could be tricky to approach because it is "very active and fasting moving", suggesting that "it's very hard to read what they want".
"Every two weeks they change not just what they're looking for but also the organisation because they're growing so fast," he added.
Inside the writers' room
Also held as part of the MIDPOINT programme was a session introducing attendees to the concept of a writers' room, in which a group of screenwriters collaborate to produce TV content.
UK screenwriter Ben Harris [pictured], whose credits include The Musketeers for the BBC, Marcella for Netflix and Dream Team for Sky, presented a lecture on the inner workings of a writers' room.
He highlighted that the model was standard practice in the US, but that the UK industry had been slower to starting using it. He said that many established writers were resistant to the idea because of their commitment to single authorship, but that he personally though the human interaction element was key to script quality, particularly on longer-running shows.
"The writers room isn't about egos, it's about enabling the best work possible. It's all about the project, you have to check your ego in at the door," Harris suggested.
He went on to suggest that young screenwriters must accept changes made to their work, "Every time you write you fail because inevitably it's not perfect, there are always things you can do to make things better."
"Even Shakespeare's plays aren't perfect, some of them are too long," he joked.
Read more from CineLink 2017: