The Sarajevo Film Festival has joined Cannes, Annecy and Locarno in committing to establish gender equality and inclusion by 2020.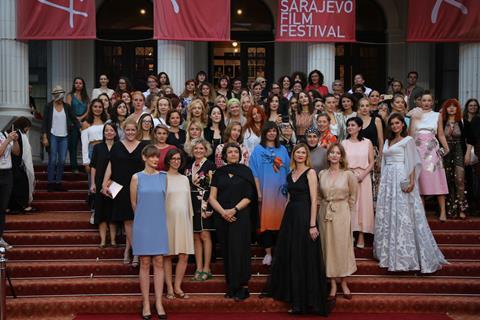 Festival director Mirsad Purivatra signed the 5050x2020 pledge in Sarajevo yesterday (Aug 15), which covers parity and inclusion in cinema, audiovisual and animation festivals. By signing, the festival is committing to establishing equality both within its film selection and its organising and programming structures in the next two years.
In this year's competition programmes in Sarajevo, which include feature, documentary, short and student films, 43% of selected titles were directed by women. Four of the 10 Feature Competition filmmakers were women this year.
The festival also has six women out of the seven people on its selection committee, which Purivatra says "serves as a positive example for the region".
"When it comes to gender parity in the selected films, the situation has changed drastically over the past 15 years," explained Elma Tataragić, feature competition programmer. "More women are involved in the filmmaking process - not just as directors, writers and producers, but also as cinematographers and editors. Women also took over more important roles at film festivals and in film funds, which in turn reflects on the complexity of the on-screen characters, both male and female."
On August 15, Sarajevo hosted a day dedicated to gender equality, which also featured two closed-door panel discussions on the topic. "There is still room for improvement, but an open and honest conversation is necessary for finding the solution to every issue," said Amra Bakšić Čamo, head of CineLink, who hosted one of the discussions.
The day was concluded with a photocall featuring 60 female film professionals attending the festival. "The idea is to send a strong message to the film community and the world about gender equality," added Bakšić Čamo.