Turkish producer Zeynep Atakan and Greek actress Angeliki Papoulia join Palestinian film-maker Elia Suleiman on the competition jury.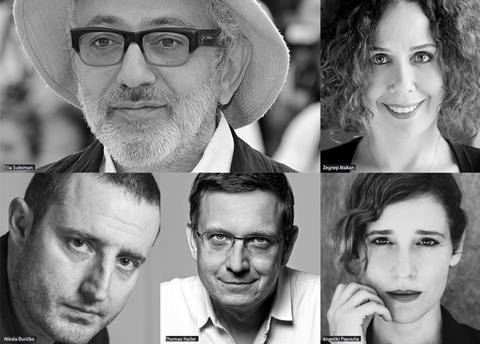 The Sarajevo Film Festival has revealed the juries for its 22nd edition (Aug 12-20).
As previously revealed, the feature film competition jury will be presided over by Palestinian director Elia Suleiman, who has twice been nominated for the Palme d'Or, and won a Jury Prize at Cannes for his 2002 feature Divine Intervention. Elia Suleiman currently serves as artistic advisor for the Doha Film Institute.
Joining him will be on this year's jury will be: Turkish producer Zeynep Atakan, who worked with Nuri Bilge Ceylan on Once Upon A Time In Anatolia and Three Monkeys; Serbian actor Nikola Dubricko, whose credits include World War Z and In The Land Of Blood And Honey; Thomas Hailer, the curator of the Berlin Film Festival, and Greek actress Angeliki Papoulia, whose credits include Yorgos Lanthimos's The Lobster and Dogtooth.
The festival's documentary competition jury [pictured below] will feature Tine Fischer, the founder and director of CPH:DOX (which recently moved to March), Fernand Melgar, the Swiss director of documentary Special Flight, which won awards at Locarno, and Alexander Nanau, whose 2015 docu-drama Tota And His Sisters won the Heart of Sarajevo award in 2015 for best documentary.
Elsewhere, the short film jury [pictured below] will be comprised of Fatima Djoumer from Europa Cinemas, Montenegrin director Dusan Kasalica, who won the best short film prize at the 21st Sarajevo film festival for A Matter Of Will, and Croatia director Jure Pavlovic, whose short fil PICNIC won the European Film Academy Award in 2015.
It was previously revealed that the festival would host a tribute to Mexican film-maker Amat Escalante at this year's edition.
Last year's competition jury crowned Mustang as its best film, with the Deniz Gamze Erguven's drama going on to receive an Oscar nomination.