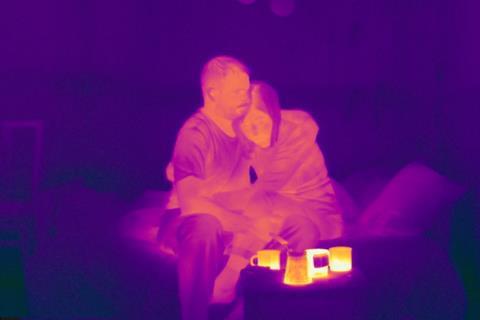 "We've had to do the programme more than once," says Mathilde Henrot of the highly unusual circumstances in which she and fellow programmer Alessandro Raja have put together Sarajevo Film Festival's Kinoscope sidebar.
Until recently, Sarajevo was set to go ahead as a physical event with open-air screenings. But, just eight days before opening night amid a second spike of Covid-19 cases throughout the region, the festival moved entirely online with the exception of a few outdoor screenings in nearby Mostar.
"We had a short window to talk with rights holders and re-adapt our programme," explains Henrot of the rush to shift activity into the virtual sphere.
The rights holders behind this year's Kinoscope titles have been overwhelmingly supportive. Almost all have made their films available for the festival's VoD platform. The Kinoscope selection is therefore as eclectic and intriguing as ever.
Films range from two hard-hitting Ukrainian titles – Valentyn Vasyanovych's dystopian Atlantis and Iryna Tsilyk's documentary The Earth Is Blue As Orange - to Jeanette Nordahl's Danish crime drama Wildland and Kitty Green's US indie drama The Assistant, exploring a young woman's experience of harassment while working for a film company.
It marks nine years since Kinoscope was launched in 2012 by Henrot and Raja, the founders of Festival Scope Pro and Festival Scope, together with former Screen International editor and ex-Protagonist boss Mike Goodridge, who is no longer involved.
The aim was to showcase the best in innovative, auteur-driven, narrative and documentary features, often by newcomers, from around the world.
"I think the spirit is still the same," says Henrot. "When we set up Kinoscope, the three of us always paid attention to newcomers. We always wanted Kinoscope to present our values. For us, the programme is a mix not just of aesthetic but also political and ethical values."
From the start, there has been an emphasis on "the representation of filmmakers from every region," with special attention paid to first-time filmmakers and gender balance.
At the same time, the programmers have looked for films which will "echo well" with the local Sarajevo audience, especially younger people. "We want to have the chance to surprise that audience," says Henrot.
Keeping it Real
Documentary is foregrounded through the Kinoscope Real strand.
In this year's programme, Henrot cites Lesotho director Lemohang Jeremiah Mosese's This Is Not A Burial, It's A Resurrection as an example of a movie Sarajevo festival goers are unlikely to know anything about in advance but which will enrapture them once they actually watch it. She describes it as "a beautiful discovery".
"Sometimes we are wrong but we also have the feel and intuition for what will play well," says Henrot. "We want to have the chance to surprise the audience as well."
Other titles Henrot is talking up include A L'Abordage, whose director Guillaume Brac is fast emerging as a major talent, and Noah Hutton's sci fi comedy drama Lapsis, which she and Raja discovered via this year's cancelled SXSW.
Other potential crowd pleasers include Garage People, a documentary exploring the lives of garage dwellers in a Russian settlement behind the Arctic Circle, and Gargarine, the widely-praised debut of Fanny Liatard and Jérémy Trouilh, which may have proved a hit at Cannes, had the festival gone ahead.
Genre film move
In recent years, Kinoscope has begun to focus more on genre movies but those which move beyond the misogyny and clichés of some genre filmmaking. Henrot cites psychological horror Saint Maud, directed by Ross Glass, and Natalie Erika James' horror drama Relic, starring Bella Heathcote and Emily Mortimer, as perfect examples of the "kind of genre films we really like".
These films have their own dedicated section, Kinoscope Surreal, formerly known as Kinoscope Midnight.
"Our screenings started at midnight but it was too late," explains Henrot of the name change. "There is a very popular bar next to the cinema and, halfway through the film, the music would get louder as more people danced. We thought we would move the schedule a little and have the screenings start at 11pm."
Now, Kinoscope, like the rest of the festival, is taking place virtually.
"The challenge of an online film festival in the summer is to have people at home, rather than outside, watching films they've never heard of - very often those films are not released yet," Henrot acknowledges. "You rely on the strong curiosity of the audience."