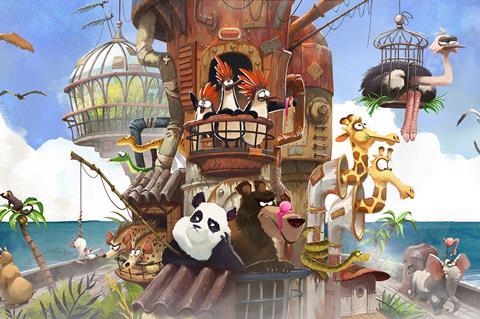 London-based sales outfit SC Films has unveiled its latest family animation feature, At The Ark At 8 (3D), which is based on the famous biblical tale.
The project comes from producers Maia Tubiana of Ellipsanime and Bettina Morlock of Now Films, who previously collaborated on French animation Titeuf, Le Film. It is set to be directed by Cedric Babouche, whose credits include 2014 animation Houdini and 2005 Cannes winning short Imago.
UK outfit SC Films is introducing the project to buyers at this week's European animation forum Cartoon Movie in Bordeaux. The company's slate includes The White Fang, which is having a promo shown here in Bordeaux following its debut at this year's Sundance Film Festival. Following its premiere, Netflix picked up rights for multiple territories including the US and UK.
Inspired by the story of Noah's Ark, At The Ark At 8 (3D) revolves around three penguins who learn that only two creatures from each species are allowed on this historical voyage. Their attempts to cheat the system creates chaos and threaten to disrupt the Ark's entire voyage.
The film is based on German playwright Ulrich Hub's play An Der Arche Um Acht, and has been adapted for screen by Cory Edwards (Hoodwinked!).
The project is a French-German-Belgian co-production and is set to start production summer 2018 for release in Easter 2020.
Cory Edwards commented: "With a timeless and beloved story like Noah's Ark, we wanted to have fun but still stay reverent to the original event. These penguins were a delight to write for because they are simple-minded yet full of confidence. They've never seen the world. Now they have to survive it ending… and beginning all over again."
Director Cedric Babouche added: "I can't wait to share with audiences this amazing encounter with three penguins who must ultimately save each other – for the good of the group, and the good of the film."
Bettina Morlock of Now Films and Maia Tubiana of Ellipsanime said: "As producers we are very proud to release three punk penguins the bible has always kept secret."
Simon Crowe, CEO of SC Films added: "This is a fantastic twist on the classic Ark story. Cory has written a fabulously funny yet gentle retelling story of not two, but three penguins on the Ark. This is family entertainment at it's very best."