Insight was given into three of the year's standout British film campaigns.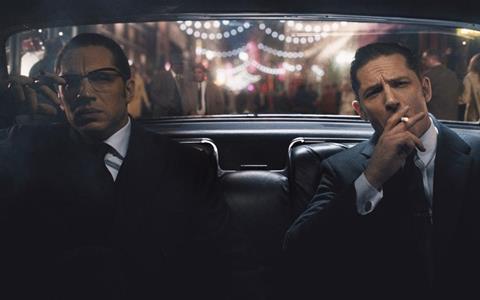 The people behind the releases of three of 2015's standout British film camapigns discussed their processes at the Screen Film Summit today (Dec 10)
Hugh Spearing, head of marketing at Studiocanal, presented Legend, which stars Tom Hardy as the East End's notorious gangster twins Ronald and Reggie Kray.
The film opened to £5.1m over 5-days and went on to take £18.2m in the UK, the company's second highest-grossing film behind Paddington.
Jon Rushton, head of theatrical distribution at Curzon Artificial Eye, discussed 45 Years, which became the biggest ever day-and-date release in the UK when it crossed £1m, before going on to gross £1.8m theatrically.
Charlie Lyne, the director of micro-budget Beyond Clueless, talked the audience through making and marketing his essay film about teen movies, which took £35,000 from a limited release and sold to Netflix for a two year spell.
The session was chaired by Paul De Carvalho of 3 Mills Studios.
A legendary concept
When approaching Legend, Hugh Spearing and Studiocanal believed from the start that they had the concept for a hit.
"The reason we got involved in the film was the central idea of Tom Hardy, who was becoming an iconic British actor, playing both of the Kray twins, iconic figures themselves," said Spearing.
The company took the project to Cannes, showing rehearsal footage of Tom Hardy in character at the festival, an approach Spearing described as highly successful: "It sold incredibly well before it even started shooting."
In the first week of production, the company released a still of Tom Hardy in character as both Ronald and Reggie Kray; even though the image wasn't a part of the actual film, it proved very popular, particularly online, and is still used to promote the film today.
The next step was releasing an initial teaser trailer for the film, which quickly became Studiocanal's biggest trailer ever in terms of online interest. "That meant we knew there was interest" recalled Spearing.
As a result of the buzz generated, he said the company felt confident utilising "a big budget across all types of media".
In particular, the social media campaign for Legend proved highly successful. "It was our most successful and engaged campaign to date," recalled Spearing.
The company also managed to make use of the burgeoning stardom of Tom Hardy, who Spearing notes is often reluctant to do much press or social media but in the case of Legend was very engaged.
The resulting hype saw the film open strongly and go on to be one of 2015's top 20 releases in the UK. "It didn't just work in London," noted Spearing, referencing the film's success in locations such as Portsmouth, Norwich and Sheffield.
Read Screen's comprehensive report on the marketing of Legend.
45 Years
Curzon Artificial Eye were coming off the back of the Bafta and Oscar-winning Still Alice when the company began considering how to market 45 Years. "That encouraged us to think of 45 Years as an awards film," notes Jon Rushton.
The film premiered at the Berlin Film Festival, where it received rave reviews and Silver Bear acting awards for its co-stars Charlotte Rampling and Tom Courtenay.
When designing the artwork for the film, Rushton noted that they wanted to avoid conventional design tropes of films aimed at older audiences, but they also didn't want to position it as an arthouse film. "It left us a tightrope to walk," he remembered.
"We usually try to be really clear on what we're selling and who we're selling to," said Rushton, "We were only thinking about independent cinemas."
The company pinpointed the August bank holiday weekend for release. "Our competition was Straight Out Of Compton, so we felt confident," remembered Rushton, who said that the disparity between the audiences for the two films, along with the bad weather over the weekend, contributed to its success.
However, Curzon's decision to release the film day-and-date (simultaneously in cinemas and on video on demand platforms) restricted its theatrical potential: "As soon as we decided to go day-and-date we knew we wouldn't go into any multiplexes."
Despite not making it into multiplexes (aside from recent BIFA screenings) Rushton said the film grossed double the company's expectations, making £1.8m and also becoming the second highest-grossing film of the year in Curzon cinemas behind Spectre.
"We managed to convince some cinemas to play it for the full 10 weeks in their sites, which gave us a tremendous advantage," said Rushton.
Rushton also revealed that the release for 45 Years was a part of an overall strategy that the company are pursuing.
He noted that VOD is not necessarily restrictive for older audiences, with many able to access various platforms through their televisions: "We have a hope that we can build a VOD audience for the future."
Being Clueless
Charlie Lyne talked about how despite having no experience in distributing a film, him and his producers self-distributed and marketed Beyond Clueless.
He described how important the film's online presence was throughout its production: "It originated from a Kickstarter which meant we had 500 people invested in the process."
"We set up all the social media accounts at the beginning in the hope that people would follow the campaign. We had immense success of Instagram but not on Tumblr," Lyne added.
While the self-distribution model may have been limited for budgetary reasons, Lyne noted that it gave them the freedom to trial and error and then "throw ideas out if they didn't work".
"We had a marketing budget of £0, distribution of budget of £2000, £1000 of that went to the BBFC," said Lyne, who has separately recently launched a Kickstarter in protest against the BBFC.
Lyne and his team designed their own website and poster, made their own trailer, and worked out their own release strategy.
"We got a certain amount of enthusiasm from distributors but they said we wouldn't make back any money," noted Lyne who also revealed that Netflix rejected the film when it was submitted, but after the Beyond Clueless website launched the VOD platform "got back in touch and bought the film for two years".
Lyne also noted that the film's American look and feel – it largely features American films, and is narrated by an American – helped it in the VOD market.
That revenue, combined with the £35,000 accumulated from a limited theatrical release in the UK, eclipsed the minimal production budget.
When quizzed on whether he would self-distribute again on a future film, Lyne said the method was excessively time-consuming, but worthwhile on the correct project.