Tim Bevan, co-chairman of Working Title Films, was the Producer In Focus talk at the Screen Film Summit on December 10.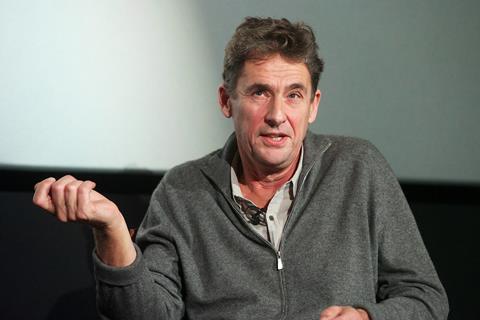 As co-head of the UK's most successful production company, which has accrued $6bn at the global box office across more than 100 films, Bevan engaged summit attendees with anecdotes from the company's past and discussion about future projects, diversity, wanting to make "bigger films" and how the company's deal with Universal has evolved since the 2008 financial crisis.
This year alone, Working Title productions include Everest, Legend, The Program and The Danish Girl, while the Coen brothers' Hail, Caesar! has been selected to open Berlin, the third Bridget Jones recently wrapped and a big-budget version of The Little Mermaid is about to have a new director attached.
Evolution of the Universal deal
Working Title has operated under the Universal umbrella since 1998, when early backer PolyGram Filmed Entertainment was folded into the studio. While the early years of the Universal relationship gave Bevan and Fellner greenlight power for projects budgeted under $35m, the 2008 financial crisis brought changes. Now, Working Title operate with an autonomous development fund and a first-look deal with the studio.
"We take big projects to them and if they decide not to develop them, we can take them elsewhere," said Bevan. "It's quite clear how the studio business has changed: they now want to make bigger movies that have franchise potential. But they'll also service Focus Features-type films like The Theory Of Everything and The Danish Girl."
The changes have led to a strengthening of ties between Working Title and Studiocanal, with the two companies combining forces on Legend, The Program, Rush, The Two Faces Of January and Tinker Tailor Soldier Spy. Studiocanal were part of the original Universal deal to give Working Title a European connection.
"It's not a second-look deal but if something falls out of Universal, Studiocanal will probably be our first port of call," noted Bevan. "They like the slightly more tricky, European-based movies."
"I think that whole thing is opening up," he added. "With the Netflixes and the Amazons and the Apples coming into it, I think there's actually a lot of potential for getting these more artistic films made. Because the beauty of those companies is that they don't really care how many people go and see them. I mean, Amazon makes movies to sell shoes."
For 10 years, Bevan and Fellner operated the lower-budget subsidiary WT2 Productions, set up by Natascha Wharton, which focused on under-$5m projects. Billy Elliot and Shaun Of The Dead emerged from the division but eventually Bevan and Fellner let it expire because "we realised that it takes just as much time and energy to make a $5m movie as it does to make a more expensive one."
While the division helped incubate new talent, Bevan said the company still feels confident hiring new film-makers even for its bigger projects.
"If you give a new director the opportunity on a slightly bigger film, statistically you're more likely to have a success because you'll get production value, a star in all likelihood and you surround that person with brilliant people," he said.
"Our attitude now is that if we put somebody with less experience on a film, then we really heavily produce them."
The Little Mermaid
Bevan said the company will be taking that approach with their upcoming live-action adaptation of The Little Mermaid, which Sofia Coppola was attached to direct until last summer (and Joe Wright before her) but will now be steered by a young female film-maker whose identity Bevan isn't ready to reveal.
Instead, he teased "the young lady who is going to do it chased us down. She told me her story, which is that she'd been brought up in a very religious Mormon household. She said, 'I'm a mermaid because I didn't know what the world was like until I was 16.' I thought, 'Hello, that's interesting.' You've got to think there's something between a person and a piece of material - some interesting chemical fusion."
"Really good directors are people who have a forensic attention to detail," he added. "It makes them a fucking nightmare to deal with but that is their genius. And they surround themselves with people who have the same forensic attention to detail. If you look at Tomas Alfredson, Paul Greengrass, Joe Wright, Tom Hooper, the Coens, that's what they all have in common."
Like many in the film industry, Working Title is increasingly focused on adaptations of existing properties, such as Les Miserables and The Little Mermaid, and fact-based narratives like The Danish Girl, Legend and Everest.
"Film executives feel much more comfortable if there's something to latch onto, that pre-exists," said Bevan. "It's a holy grail."
Other upcoming projects include the third Bridget Jones film, Bridget Jones's Baby, which recently wrapped its UK shoot and will be released in 2016.
Bevan agreed that Everest, which at $55m represented a hefty budget for a Working Title project, was a sign of scaled-up ambition. Universal didn't want to fully finance the film so Working Title brought in other partners, including Cross Creek Pictures.
"The fact is, because we have access to a studio, our lives are easier than many," he said. "But there's still many more no's than there are yes's."
"Both Eric and I feel that we really want to make a few bigger films [with Universal] while we have this great opportunity," he added. "Everest would be the beginning of it, and The Little Mermaid is next."
Working with the Coens
Berlinale opener Hail, Caesar! is Working Title's ninth collaboration with the Coen brothers but their first since A Serious Man in 2009, with Scott Rudin producing their last two films, Inside Llewyn Davis and True Grit. Bevan said the relationship with the duo operates on a fairly informal basis.
"The big relationships that Working Title have are with Joel and Ethan, Richard Curtis, Edgar Wright, Joe Wright, and a pretty good relationship with Paul Greengrass," he said. "They wax and wane in terms of whether there's a formal relationship or whether they just bring you something."
Of Hail, Caesar!, he described it as "a nice old navel-gazer. It's a funny film and it's got a great cast."
During audience questions, one attendee asked Bevan about diversity, namely whether he had taken the criticisms directed at Notting Hill for its mainly white portrayal of an ethnically diverse west London neighbourhood personally.
"It's definitely something that we should be better at," he said. "We should be better at it from our point of view, but we should also be better at it from a multi-cultural point of view - we should get more good actors coming through from multi-cultural backgrounds."
Bevan was also asked whether he had ever considered directing himself. "No, I spend a lot of time saying you have to have a meticulous attention to detail [to be a good director] but you also have to be a little bit on the spectrum."
"If you're a really good creative producer - and I think that Eric and I are pretty good - you can get a lot of fun out of this game without actually having to go through the torture of directing," he continued.
"You're totally involved in development, you're totally involved in putting the people together that are going to make the film and most importantly you're totally involved in the edit, which is the exciting part of the process. I'm very happy with what I do."