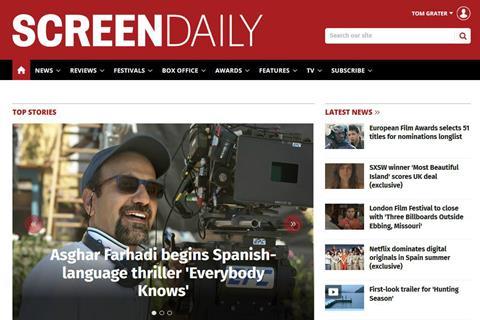 Screen International has launched a redesigned Screendaily.com as it continues to overhaul its digital offering.
The new website is fully responsive, meaning it will run smoothly for subscribers and visitors across all browsers and operating systems.
As part of the overhaul, the mobile offering has also been relaunched, with the full Screendaily platform now available across all handheld devices and tablets.
The relaunch is in part a response to the growing numbers of visitors accessing Screendaily while they are on the move. With Screen's industry audience frequently travelling to international markets and festivals, the new-look website will ensure a high-quality experience wherever they are.
The website also contains a streamlined navigation system, which will help readers to quickly and easily find the news, reviews and features they want to access.
Updated functionality also includes the ability to run larger images and full compatibility with social media platforms such as Facebook and Twitter.
Screen editor Matt Mueller said: "As Screendaily.com's traffic continues to rise and so many of our users throughout the industry now access our website through their handheld devices, we want to ensure they have the most user-friendly pathway to accessing our content."