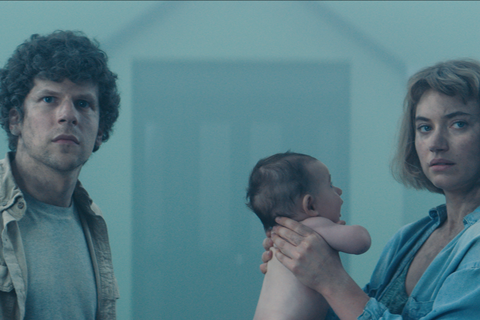 New projects from filmmakers Lee Cronin and Lorcan Finnegan are among several new productions being backed by Screen Ireland in its latest round of funding decisions.
Cronin (The Hole In The Ground) will direct the psychological thriller Box Of Bones from a screenplay he co-wrote with Stephen Shields, to be produced by Wild Atlantic Pictures (Black '47).
Box Of Bones tells the story of Alice, a devoted young woman who battles to save her fiancé from his conviction that a supernatural entity is trying to possess his body. Wild Atlantic Pictures has begun the process of financing and casting with the goal of attaching the two lead roles in early 2021. It received an unquantified offer. "Lee and Stephen have written a chilling script that at its core raises questions of identity, trust and true love while dragging the reader through a rollercoaster of terror," said producer John Keville.
Lorcan Finnegan (Vivarium) will direct Nocebo, a psychological thriller about a fashion designer who is suffering from a mysterious, tick-related illness. Help arrives in the form of a Filipino nanny who uses traditional folk healing to reveal a horrifying truth. The film explores consumerism, human exploitation and the power of the mind to harm or cure the physical body.
Nocebo is being produced by Brunella Cocchiglia for Lovely Productions and Emily Leo for Wild Swim Films, and is written by Garret Shanley. The project was selected for the co-production market at the Macao International Film Festival where they partnered with Filipino producers Bianca Balbuena and Bradley Liew of Epic Media.
The film is the first co-production between Ireland and the Philippines and one of the first projects to be supported by the Film Development Council of the Philippines and their new International Co-production Fund (ICOF).
Shooting for Nocebo will take place in Dublin in February and Manila in March 2021. XYZ Films are executive producing and handling sales. Nocebo was granted funding of €750,000 ($885,847) by Screen Ireland - the highest single award this quarter.
Other features awarded production funding include The Ten Steps (€650,000 / $767,734), written and directed by Brendan Muldowney for Savage Productions and Fubar Films' Barber (€112,500 / $132,877) directed by Fintan Connolly who co-wrote the screenplay with Fiona Bergin.
In development funding, the agency is backing The Táin, produced by Monto Movies and directed by Lance Daly (Black '47). Daly co-wrote the script with Demian Fox. The feature is based on The Táin Bó Cúailnge, an epic tale at the centre of Ireland's ancient mythology, featuring iconic characters like Cú Chulainn and Queen Medb. "Growing up in Ireland with these mad stories of our pre-history, I always wanted to see them in movie form, and after hearing about the many attempts to adapt them to cinema over the years, I'm excited to join the race to be the first to bring them to the big screen," said Daly.
Other features in development include Montpelier Parade, directed by Emer Reynolds and written by Karl Geary for MVG Film & TV Limited, and Port Pictures' Ethel's Orchestra, directed by Aisling Walsh from a screenplay by Celeste Parr.
In television production, Screen Ireland backed projects including The Film Workshop's Glorious Heresies (€600,000 / $708,678), Subotica's North Sea Connection (€300,000 / $354,339) and Metropolitan Films' Kin (€300,000 /$354,339) starring Charlie Cox and Clare Dunne and currently filming on location in Dublin. International producers are Bron Studios and Headline Pictures.
Treehouse Republic's Atom Town and Turnip & Duck's Critters series 2 are among the TV animation projects being supported.