US indie director talks his Directors' Fortnight premiere.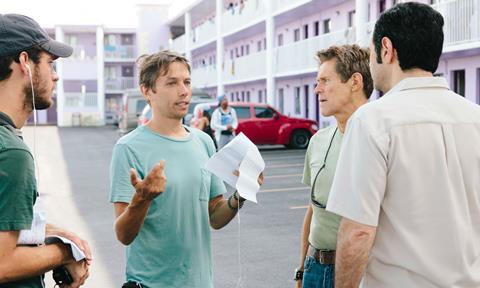 A stalwart of the US indie filmmaker scene, Sean Baker has found himself hitting the mainstream since his LA-set tale of transgender sex workers Tangerine premiered at Sundance 2015 to raves. The Duplass Brothers-produced feature was lauded for its innovative cinematography (the film was shot entirely on an iPhone), and went on to win both Indie Spirit and Gotham awards.
Baker is in Cannes this year with his next feature, The Florida Project¸ which tells the story of a precocious six-year-old and her friends whose carefree lives contrast with those of their struggling parents.
It premieres in Directors' Fortnight today (May 22). Protagonist Pictures is handling sales, Altitude has UK rights.
Catching up with Screen, Baker explains that he's tried to make a point by shooting his new film is shot entirely on 35mm celluloid. "I didn't want to become the iPhone guy," he says, "It worked for Tangerine but I'm also a cinephile, I adore celluloid and I wanted to switch it up, go 180 degrees."
While Tangerine was shot for a modest budget of $100,000, the film's prominence on the festival circuit saw him approached by Andrew Duncan and Alex Saks of June Pictures. Their offer was simply too good for Baker to turn down, "They came to me and said, 'you can make whatever movie you want'. I had 100% creative freedom, final cut, I was able to shoot on a larger budget and to work with great talent."
The team considered numerous actor for the film's leading man, but once Willem Dafoe's availability was mooted, Baker jumped at the chance. "I consider him one of the greatest living actors," the director says, "I found out he was in New York for literally 24 hours, so I flew up to meet him. He was completely down for it, and he wasn't afraid of working with non-professionals and kids."
The kids in question are a rag-tag group led by Moonee, who is played by newcomer Brooklynn Prince. "She was a godsend," comments Baker, who discovered her though a local casting agency in Orlando. "She is the best child actor I have ever come across, she's incredibly witty and funny, she held her own with Willem Dafoe," he adds.
Leading actress Bria Vinaite was discovered through less conventional means. Baker came across her Instagram profile, finding himself captivated by her "physicality and kid-like sensibility". Despite never acting before, Baker was convinced she was right, and reached out to her through the social media platform. "She was fearless, she jumped in and showed us that she truly had the gift, she was a natural. It makes me feel great that it worked because it was such a gamble," Baker says.