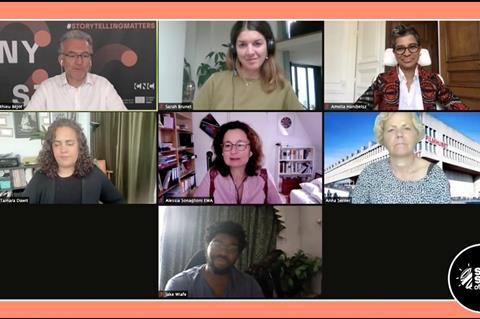 The complex issue of diversity and how to tackle it in documentary filmmaking was the topic of conversation at the Sunny Side Of The Doc 2021 panel entitled 'Diversity: The Initiatives Driving Action, Not Just Talk!' that took place online on June 21.
Speakers included Anna Serner, outgoing CEO of the Swedish Film Institute, Sarah Brunet, who oversees the diversity and inclusion strategy for Creative Europe Media, Tamara Dawit, the Canada Media Fund's strategic lead on equity and inclusion, Alessia Sonaglioni, executive director of EWA Network, Amelia Hanibelsz, founder of Tell2C and member of Brown Girl Doc Mafia, and Jake Wiafe, senior content editor for UK outfit Real Stories.
The panel discussed both the need for awareness and visibility and how the issue was different across Europe and beyond and encompassed not just diversity and gender parity but religion, sexuality, disability and class. Serner pointed out that while Sweden was "very forward in gender equality" it lagged behind other Anglo-Saxon countries in terms of "inclusion of ethnicity and different cultural backgrounds". Key to levelling the playing field, she said, is education, and that can only be achieved by gathering and sharing knowledge across Europe, investigating and finding problems, and then supporting those countries who don't have the money for mentor programmes.
To improve diversity, she continued, financial incentives need to be put in place when it came to funding bodies, including special schemes for script development for women on bigger budget projects, with the European Observatory following the Swedish Film Institute's recommendations to monitor who received film funding across Europe, in terms of female scriptwriters, directors and producers in shorts, documentaries and feature films, stating that "it's very easy to hide bad numbers in feature films by adding on a lot of short films… This is a very important tool to raise awareness and follow progress over time."
Brunet noted that going forward Creative Europe Media's fund would ask all applicants to have a "minimum strategy as regards diversity and inclusiveness" but admitted "it's difficult for us because we are covering 27 countries and the level [of diversity and inclusion] is very different" across the board, and so it's impossible to implement a quota system, but would award points on which applicants would be selected.
"It is a major step," she said. "It's meant to be an incentive. We will monitor the situation, see what applicants declare, and see how it improves."
In addition, Creative Europe Media will continue to meet and have a dialogue with stakeholders at festivals, as well as beef up its mentorship programs to help women in the application process.
For Dawit and the Canada Media Fund (CMF), the main focus is to understand why indigenous and racial groups have not previously accessed the CMF's system and to help them going forward with funding as well as making sure they keep ownership of their IP. Part of the solution, suggested Dawit, is to incentivise traditional broadcasters and organisations to work with a more diverse range of talent.
Diversity of subject matter is also at the heart of Sonaglioni's work with the EWA Network, a pan-European network of female professionals which offers mentoring and training as well as expertise to film funds in respect to gender equality.
As a result of their broad network, the EWA had access to a vast amount of information regarding discrimination. It found that East Europeans were discriminated based on their geographical origins, with Romani filmmakers particularly vilified, while across Europe, filmmakers were discriminated against in terms of the content of the stories they want to tell. "We had very touching testimonies from our members where female filmmakers of foreign origin were asked very explicitly to adapt their content to national taste."
In France, those of North African origins were asked to tell films about and for the inner-city suburbs. "It's about freedom of expression," Sonaglioni'e noted. She said the EWA was in constant conversation with a small French collective of female filmmakers who call themselves non-aligned because they don't feel they belong to the mainstream.
"They are mostly of African origin and don't feel supported and don't feel European. And I wanted to build programmes to work with them," she explained.
Hanibelsz, the founder of the US-based, female-focusedl Tell2C production collective, has spent the majority of her professional career in development and is a judge for Netflix's New Voices scriptwriting contest She said that in 20 years of working she had rarely seen "anyone like me" in a position of power, that the "decision makers and gatekeepers were predominantly white males and white females" although that was, fortunately, changing. She pointed to the fact Brown Girl Doc Mafia now has a membership of 4,500 women documentary filmmakers of colour and stressed the importance of networking, noting that for a recent project she oversaw for the Shoah Foundation she found her team via Brown Girl Doc Mafia.
Class, too, can be a barrier for advancement in the creative sector. "Visibility is really important," explained the UK's Jake Wiafe. "A lot of minorities and people from under-represented backgrounds, when they look at the documentary industry, they don't think that what we do is possible, they don't think it's accessible to them. They see it as a much more middle-class/upper-class endeavour, where if you already have the equipment, if you already have the contacts, you can get your story out there. But if you're at the grassroots level you have a lot more struggle. At Real Stories we have really simplified the process of hearing pitches. Where all it takes is to email us with your idea and we'll look at it."
Moreover, said Wiafe, Real Stories is a digital media company, with its content available online and so can provide filmmakers with a massive audience that the likes of Netflix and Channel 4 take seriously as well as allow a more diverse range of content. "We find that Black filmmakers are pushed into telling gang-related stories and not able to tell stories of Black joy or Black journeys. We encourage people to give us a variety of stories. Seeing Black people doing things they enjoy is revolutionary."
In the end, perception is almost everything. "If you can see it, you can be it," said Serner.