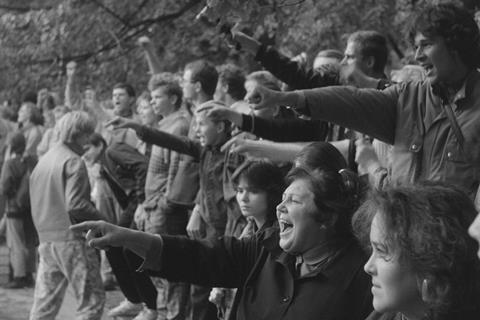 Prolific Ukrainian filmmaker Sergei Loznitsa, who has two films screening at International Documentary Film Festival (IDFA) this week, is working on a continuation to his archive-based feature documentary, Babi Yar. Context, to be called Kiev Trial.
The film looks at the war crimes trial in Kiev, Ukraine in January 1946, following the massacre detailed in the previous film. It is again being produced by Loznitsa's Atoms & Void with producer Maria Choustova.
He said he is also planning a third Babi Yar-related project which will be a dramatic feature based on the massacre.
Babi Yar. Context, which debuted at Cannes in July, is screening in the Masters section at IDFA this week. It tells the story behind the incident in Kiev in September 1941, when Nazis and their supporters slaughtered over 30,000 Jews.
Speaking to Screen in Amsterdam this weekend, Loznitsa said Babi Yar. Context has been the subject of controversy in Ukraine with some prominent local historians and media figures coming out against the film. The director suggested they have taken issue with the way the documentary shows the Ukrainian auxiliary police as being fully complicit in the massacre of the Jews.
The director said it was "historical fact" that the police participated not just in this but other atrocities during the Holocaust.
Babi.Yar .Context has screened widely in Ukraine. The film has been made available free of charge to cinemas in the country and has screened twice on TV.
Loznitsa has another new feature doc, Mr Landsbergis, receiving its world premiere in IDFA this weekend. The four- hour film, which screens in IDFA's International Competition, is about the inspirational Lithuanian political leader who was one of the founders of the Lithuanian independence movement. He helped guide the country in the late 1980s and early 1990s when it was seeking to break away from the Soviet Union.
The film is sharply critical of former Soviet leader, Mikhail Gorbachev. "As far as the Lithuanians are concerned, [Gorbachev] is a criminal," Loznitsa said.
The Ukrainian director is also pushing ahead with yet another new project, The Natural History Of Destruction. Inspired by cultural historian WG Sebald's book of that name, the film looks at the saturation bombing of German cities later in the Second World War by the Allies. This is archive based and will be made largely without voices but voices of key protagonists like Winston Churchill, Bomber Harris and General Montgomery will be heard. "I try to present all sides, German, Americans and British," he said. He has already sourced archive material from the Imperial War Museum.
Babi Yar. Context is nomimated for best documentary film at the European Film Awards to be held in a scaled-down ceremony in Berlin on December 11