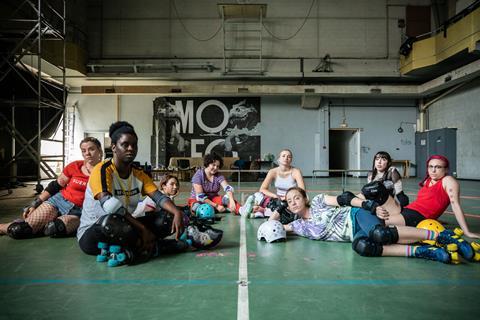 French TV festival and industry event Series Mania has kicked off its industry-focused online platform the Digital Forum, showcasing 40 completed series and 10 short format works as well as 30 pre-recorded pitches for shows in development.
The digital initiative replaces the physical event that was due to take place in the northern French city of Lille from March 20 to 28 but was cancelled due to the coronavirus pandemic. France is now under a lockdown which is expected to run into April.
Channel 4's drama Adult Material and Spanish Basque conflict saga Patria are among the shows market premiering on the platform's Buyers Showcase. The titles were among 10 shows due to premiere in the international competition line-up of the festival which is no longer going ahead, in any shape or form.
Adult Material stars the UK's Hayley Squires (I, Daniel Blake, The Miniaturist) as a woman juggling a lucrative career in the porn industry and family life as a mother to three children. Other cast members include Siena Kelly, Joe Dempsie, Julia Ovenden, Phil Daniels and Rupert Everett. Channel 4 recently publicly teased a trailer for the series in the UK but has yet to announce a broadcast date.
It is the latest production from Fifty Fathoms, the London-based production house whose credits include Marvellous, Fortitude and The Eddy.
Adapted from Fernando Aramburu's eponymous best-selling novel, Aitor Gabilondo's Patria is one of the most ambitious series to come out of Spain to date.
It explores the legacy of the 40-year conflict between Basque separatist group ETA and the Spanish authorities through the tale of two friends torn apart by the violence.
The further two international competition titles available to screen include Inhuman Resources and Cry Wolf.
Inhuman Resources stars Eric Cantona as a desperate unemployed business executive who finds himself caught up in an extreme job selection process. Lebanese filmmaker Ziad Doueiri directed the series, adapted by Pierre Lemaitre and Perinne Margane from the former's best-selling book.
Cry Wolf is a family drama from Denmark revolving around a family which is torn apart when one of the children writes an essay detailing violence at home as part of a class assignment. It was written by Maja Jul Larsen with a quartet of directors working on the series including Pernille Fischer Christensen and May El-Toukhy.
Titles not made available to screen include French-Belgian-Israeli series No Man's Land, starring Felix Moati as a Frenchman who heads to Syria in search of his sister, as well a number of series that are not looking for sales deals such as Netflix's Unorthodox.
Nearly all the titles scheduled to play in the festival's Late Night Comedies sidebar have been retained including Sky's workplace sitcom Intelligence, starring David Schwimmer as a self-important NSA agent who is sent to London to set up a new cyber crime task force within London's GCHQ, and French comedy drama Derby Girl, starring Chloé Jouannet as a disgraced ice-skating champion whose plans to achieve glory in the world of roller derby tournaments are undone when she unwittingly joins the worst team in Paris,
The online selection also includes 20 international shows that were supposed to screen out-of-competion across the festival including Norwegian broadcaster NRK's drama July 22, reconstructing the real-life events of July 22, 2011 when far-right extremist Anders Breivik murdered 77 people, many of them teenagers in Oslo and on the island of Utoya and Wara, the first African production to be selected by Series Mania.
The inter-generational tale is set against the background of an imaginary town in the Sahel region of Africa explores contemporary society and politics through the antagonistic but close relationship between a law professor and a gifted student. It was created by Oumar Diack and Toumani Sangaré, co-founders of the Paris-based Kourtrajmé filmmaking collective to which Oscar-nominated filmmaker Ladj Ly also belonged.
Another 20 titles that were not originally selected for either the festival or platform, including Belgium thriller Blackout, revolving around the sabotage of a nuclear power station, and the timely Canadian series Epidémie, are also now screening as part of the digital event.
The Digital Forum also features pre-recorded pitches for the project development sections of Series Mania, including the Co-Pro Pitching sessions as well as short presentations by emerging screenwriters participating in the UGC Writers Campus of themselves and their upcoming work. Five projects being developed under the auspices of the Israel-France Drama Series Co-Writing Residency will also be pitched via video.
The full list of available shows:
International competition
· Adult Material (UK),
· Cry Wolf (Denmark),
· Inhuman Resources (France)
· Patria (Spain)
International Panorama
· 22 July (Norway)
· Behind The Door (Japan)
· Cold Courage (UK/Finland)
· Commandos (Netherlands)
· The Cursed (Korea)
· La Jauria (Chili)
· Lucky Day (Peru)
· Normal (Israel)
· Operation Buffalo (Australia)
· Thin Ice (Sweden)
· Unchained (Israel)
· Wara (France, Togo, Niger)
· World On Fire (UK)
Comedies
· Defending The Guilty (UK)
· Derby Girl (France)
· Drama (Spain)
· Intelligence (UK)
· Would You Rather (France)
· Upright (Australia)
· Everything's Gonna Be Okay (US)
Library only
· 422 (Canada)
· Albatros (Belgium)
· Amarres (Mexico)
· Blackout (Belgium)
· Bones (Bosnia-Herzegovina)
· Cerebrum (Canada)
· Dani Who? (Mexico)
· Epidémie (Canada)
· Fragile (Canada)
· Hope (Russia)
· Love Me (Sweden)
· Mon Fils (Canada)
· My Funeral (Iceland)
· Peacemaker (Finland)
· Second Call (Brazil)
· The Bank Hacker (Netherlands)
· The Commons (Australia)
· The Secret She Keeps (Australia)
· Victoria Small (Argentina)