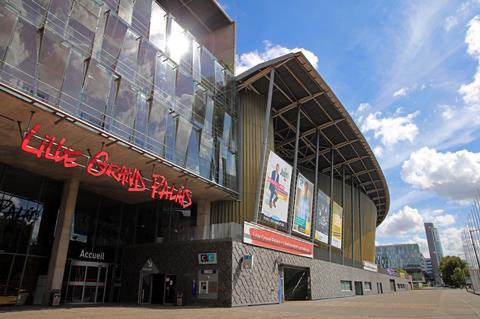 French TV festival and industry event Series Mania, which was due to take place from March 20-28 in the northern French city of Lille, has been cancelled due to the coronavirus outbreak.
The organisers said the entire meeting spanning the Series Mania Festival (March 20-28), Series Mania Forum (March 25-27), and Lille Dialogues (March 26) have been shelved in the interest of safety.
"This year's Series Mania was an event not to be missed with an exceptional programme and amazing guest list and it is with great sadness that we have had to make this difficult decision," said Series Mania founder and general manager Laurence Herszberg.
"However, our utmost concern is for the safety and well-being of our valued clients, guests, and staff who have invested so much time these past few months. I would like to thank the city of Lille, Hauts-de-France region and European audiences for their enthusiasm and passion. I would also like to thank every creator, talent, producer, scriptwriter and broadcaster who have trusted us since the beginning. To our audiences, professionals, politicians, and industry leaders, we will be back stronger than ever in 2021 for a new edition that will be, from the bottom of our hearts, even more ambitious and radiant."
President of the Hauts-de-France region Xavier Bertrand, added; "The Hauts-de-France region has had the honor of hosting Series Mania since 2018 and is already looking forward to welcoming the Festival, Forum and Lille Dialogues in an ambitious way in 2021, as well as its further development in future years. Series Mania has our total support, as well as the people around the world during this difficult time."

The decision comes less than a week after conference organiser Reed Midem cancelled the 2020 edition of MIPTV, which was scheduled to run in Cannes March 30 to April 3, and the accompanying Cannes Series TV festival was delayed until October to take place during MIPCOM.
Herszberg told Screen as late as last Friday (March 6) that she hoped the event would go ahead.
But the introduction on Sunday of a new measure banning gatherings of more than 1,000 people put it under further pressure as did a string of cancellations by keynote speakers and other professional participents. The 2019 edition drew 72,332 visitors, including 2,700 accredited professionals.
As of Tuesday evening (10), there had been 1,784 confirmed cases of coronavirus in France and 33 related deaths, according to French health ministry figures.
French president Emmanuel Macron told reporters on Tuesday that France was "only at the beginning of this epidemic" but called for calm saying that "85% of the cases were benign". On Monday night, news broke that French culture minister Franck Reister had tested positive for the virus but was not in a serious condition.
The cancellation of Series Mania is bound to reignite speculation around whether the Cannes Film Festival, scheduled to run May 12 to 23, will be held even though it is still nine weeks away.
Cannes Film Festival president Pierre Lescure told the French newspaper Le Figaro on Tuesday that its management team remained "reasonably optimistic" that the coronavirus outbreak would die out in time for the 2020 edition to take place.
"We remain relatively optimistic, hoping that the peak of the epidemic will be over by the end of March, allowing us to breathe easier in April," Lescure told the newspaper. "But we're not irresponsible. If that's not the case, we'll cancel."
Series Mania was launched by the Forum des Images cultural centre in Paris as a niche event focused on independent TV drama in 2010, just as the high-end drama boom was taking off. It since has become a key event on the TV industry market and festival circuit, with a special focus on writing and project development.
It moved to Lille in 2018, as part of an ambitious government initiative to create a standalone TV festival with international appeal.
The Series Mania Forum programme featured a number of talent development and project pitching initiatives topped by the Co-Pro Pitching Sessions – which was due to present 16 TV drama projects – and also including the SeriesLab, UGC Writers Campus and the Israel-France Drama Series Co-Writing Residency.
Series Mania's industry events also included the one-day Lille Dialogues (March 26) aimed at fostering exchange between European and US professionals around key issues impacting the audiovisual sector on both sides of the Atlantic. Past participants have included Netflix CEO Reed Hastings and CCO Ted Sarandos well as MPAA CEO Charles Rivkin.
Topics on the table for the third edition of the discussions were to have included Brexit, public funding for TV series in Europe, climate change, the implementation of the European Union's Audiovisual Media Services directive and a discussion on what role TV dramas can play in protecting democracy by discussing issues some political regimes would like kept out of the limelight.
European Commission vice president Margrethe Vestager, Fremantle chief operating officer Andrea Scorsati, WarnerMedia Entertainment Networks president Giorgio Stock and Disney+ senior vice president international content development Matt Brodlie had been among the scheduled speakers.