FILM BAZAAR: Actress talks about how first-time feature director lured her to Idgah.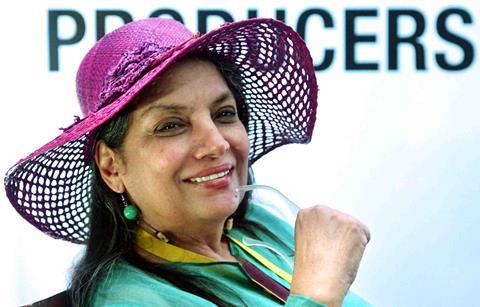 When first-time directors approach established actors, they need to convince them that they're right for the role and not just bringing finance or kudos to the project, said actress Shabana Azmi speaking at Film Bazaar's Producers Lab yesterday.
Azmi recently took the plunge with first-time feature director Piyush Panjuani in Idgah, an adaptation of Munshi Premchand's short story, which is screening in Film Bazaar Recommends. She added that the fact she knew the source material also helped.
"I wasn't convinced in the beginning but he persuaded me that he wanted me as an actor," Azmi said. "Also he saw something that I could bring to the role that I hadn't seen myself. The script has to be right but you also have to have perseverance."
Panjuani, who has a background in theatre and advertising, said it took him about five months to persuade Azmi to star in the film, which revolves around the relationship between a grandmother and her grandchild: "It's important to give an actor time. She was very clear that she needed to see herself in the role."
Azmi said she was also convinced when Panjuani set up a "look test" trying out costumes and make-up, as well as taking her to see locations for the Kashmir-set tale.
"I'm curious to work with new filmmakers because I want to learn about the language of cinema as it's being done today," Azmi added. "The way its being shot, the mis-en-scene, is very different to the time when I was doing a lot of work."
The film, which was produced by Equus Films, was selected for the Co-production Market at Film Bazaar in 2010 and also took part in the NFDC's National Script Lab in 2014/5.