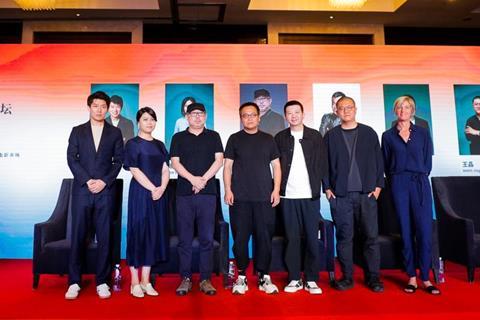 Shanghai International Film Festival (SIFF) announced the five directors who have been selected for SIFF Young, a new talent support programme jointly organised by the Cannes Marche du Film, during the festival's opening weekend.
Four of the filmmakers – Han Shuai, Liang Ming, Rao Xiaozhi and Wang Jing – attended the June 12 event in person, which was held as a forum with a live audience at the Crowne Plaza Hotel. The fifth is Hong Kong-based Derek Tsang who was unable to come in person due to pandemic travel restrictions.
The directors were selected by a panel consisting of director/producer Ning Hao (as panel chair), screenwriter Jiao Huajing, China-based French producer Natacha Devillers, producer Shen Yang and screenwriter/producer Wang Hongwei.
Han Shuai
Han's debut feature Summer Blur won high praise from critics, winning the Fipresci prize at the 2020 Busan film festival, best feature at Berlinale's Generation Kplus, and best director and best actress (for newcomer Huang Tian) at Hong Kong festival's Firebird Awards for young cinema. The psychological drama looks at the inner world of a strong-willed 13-year-old girl who longs to escape her small town in Wuhan and reunite with her mother in Shanghai. Han graduated from the Central Academy of Drama in Beijing in 2018. Her short films have won awards at Hangzhou Asian Film Festival and Beijing Student Film Festival.
Liang Ming
Actor-turned-director Liang's directorial debut Wisdom Tooth (2019) was a festival hit, travelling to more than 30 international festivals mostly during the pandemic and winning awards including best director and a jury prize at Pingyao, and best director and best actor (for Wu Xiaoliang) at Hong Kong festival's Firebird Awards for young cinema. It was also released theatrically in France by ACS last year. The coming-of-age drama focuses on two siblings living at subsistence level during a snowy winter in China's northeastern Liaoning province, where Liang was born. Liang started out as an actor in Lou Ye's Spring Fever and Zhao Dayong's Shadow Days. He also worked as assistant director on Lou's Mystery.
Rao Xiaozhi
Rao has directed three films in the last five years, earning a reputation for black, sometimes surreal, comedies. An established theatre director before turning to film in his mid-30s, Rao's debut feature The Insanity (2016) was adapted from his own stage play. His second film A Cool Fish, which sees an ex-cop, his paralysed sister, and two clueless robbers caught up in a series of coincidences, became a sleeper hit in 2018, while his latest feature Endgame, starring Andy Lau as an amnesiac killer who thinks he is a failed actor, was recently released over Chinese New Year. The last two grossed a combined $250m at China's box office.
Derek Tsang
Tsang grew up in Canada and returned to Hong Kong after finishing his studies, initially as an actor before his focus turned to filmmaking. Since 2010, he has co-directed such films as Lover's Discourse and Lacuna. He rose to prominence with his first solo feature Soulmate (2016), a character-based drama about female friendship starring Zhou Dongyu and Ma Sichun who made history as joint best actress winners at the Golden Horse Awards. Most recently, Tsang's Better Days, starring Zhou again alongside Jackson Yee from TFBoys, struck a chord with Chinese audiences, making $250m at the box office. The school bullying drama also won eight prizes at the Hong Kong Film Awards and landed a best international feature film nomination at this year's Academy Awards.
Wang Jing
Produced by Jia Zhangke, Wang's debut feature The Best Is Yet To Come premiered back-to-back in Venice's Horizons sidebar and Toronto last year. Inspired by true events, the drama unfolds in 2003 in the aftermath of the Sars epidemic, following a young newspaper journalist who is determined to fight social injustice with a pen. Born in Taiyuan City, Shanxi province (as was Jia), Wang has previously directed TV commercials and documentaries and for many years worked as Jia's assistant director on films including A Touch Of Sin, Mountains May Depart and Ash Is Purest White.