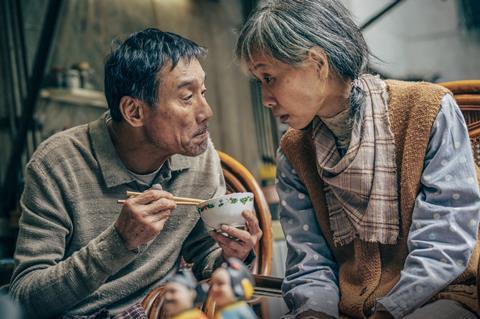 Han Yan's Love Never Ends is set to open the 25th Shanghai International Film Festival (SIFF), which has also revealed the nominations for its Golden Goblet Awards.
The romance drama is adapted from a cartoon of the same name created by Kang Full. Ni Dahong, Kara Wai, Tony Leung Ka-Fai and Cecilia Yip play two elderly couples who show it is never too late to love.
Director Han previously directed 2015's Go Away Mr. Tumor and 2020's A Little Red Flower. Love Never Ends is set for theatrical release on June 21, following the premiere at SIFF.
SIFF is set to run from June 9-18 and features a strong selection of titles from mainland China, as the festival prepares returns to a full in-person event after cancelling last year's edition due to the Covid-19 pandemic.
Scroll down for list of titles
China dominates the main competition with three films: Liu Jiayin's All Ears, starring Hu Ge; Chen Shizhong's debut feature Good Autumn, Mommy, starring Shu Qi and White K – both of which are handled by Beijing-based sales agent Rediance; and Jonathan Li's Dust To Dust, starring Da Peng and Lam Ka Tung, and produced by Soi Cheang.
Two Japanese films in the running are Yôji Yamada's Mom, Is That You?! and Kazuyoshi Kumakiri's Yoko, alongside Haobam Paban Kumar's Joseph's Son from India. The rest of the line-up is mostly from Europe.
A total of 34 features have been selected across four categories of the Golden Goblet Awards, which will take place on June 17. They comprise 12 titles each in the main competition and the Asian New Talent and five apiece for animation and documentary. Some 25 of them are world premieres.
As previously announced, Polish filmmaker Jerzy Skolimowski will head the jury.
In the Asian New Talent category, a further four features from China are competing: Wang Zichuan's Day Dreaming; Chen Xiaoyu's Gone With The Boat; Liu Bing's Love, My Way; and Luo Dong's May, which is executive produced by Chinese star Zhou Xun and produced by Diao Yinan producer Shen Yang.
Two entries from Hong Kong are produced by renowned filmmaker Derek Yee: Lawrence Kan's In Broad Daylight, starring Jennifer Yu and Bowie Lam and represented by One Cool Pictures; and Nick Cheuk's Time Still Turns The Pages, starring Siuyea Lo, Ronald Cheng and Hanna Chan and represented by mm2.
A rare entry from Laos is Lee Phongsavanh's The Signal, which is in the mix with two from Iran, and one apiece from Kazakhstan, Uzbekistan and Japan.
Nine mainland Chinese films are included across the four categories; all of them world premieres. Rounding up the list are iQiyi animated feature Master Zhong by Wang Yuxi and Huang Shanchuan and Yang Lina's feature documentary Leap Of Faith. The latter and Gone With The Boat from Asia New Talent are handled by Hugoeast Media.
According to SIFF, almost 8,800 entries from more than 128 countries and regions were received, including 4,500 entries that were submitted for last year's edition. Shanghai, China's financial hub, was under a city-wide full lockdown during most of April and May last year. Although the city was officially announced to return to normal on June 1, cinemas were not allowed to reopen, and the festival was cancelled just days before its opening.
Golden Goblet Awards 2023 nominations
*world premiere
Main Competition
All Ears (China)*
Dir. LIU Jiayin
Dust To Dust (China)*
Dir. Jonathan Li
Good Autumn, Mommy (China)*
Dir. CHEN Shizhong
Joseph's Son (India)*
Dir. Haobam Paban Kumar
Kindling (UK)
Dir. Connor O'Hara
Mom, Is That You?! (Japan)*
Dir. Yôji Yamada
Muyeres (Sp)*
Dir. Marta Lallana
Nina (Rus-Geo)*
Dir. Oksana Bychkova
The Annoyed (Iran)*
Dir. Mehdi Fard Ghaderi
The Chapel (Bel)
Dir. Dominique Deruddere
The First Day Of My Life (It)
Dir. Paolo Genovese
Yoko (Japan)*
Dir. Kazuyoshi Kumakiri
Asian New Talent
1.5 Horsepower (Iran)*
Dir. Rasool Kahani
Cause Of Death: Unknown (Iran)*
Dir. Ali Zarnegar
Day Dreaming (China)*
Dir. WANG Zichuan
Gone With The Boat (China)*
Dir. CHEN Xiaoyu
In Broad Daylight (HK)*
Dir. Lawrence Kan
Love, My Way (China)*
Dir. LIU Bing
May (China)*
Dir. LUO Dong
People Who Talk To Plushies Are Kind (Japan)
Dir. Yurina Kaneko
Qash (Kazakhstan)*
Dir. Aisultan Seit
Sunday (Uzbekistan)*
Dir. Shokir Kholikov
The Signal (Laos)*
Dir. Lee Phongsavanh
Time Still Turns The Pages (HK)*
Dir. Nick Cheuk
Animation
Dolphin Boy (Iran-Turkey)
Dir. Mohammad Kheirandish
Four Souls Of Coyote (Hun)
Dir. Áron Gauder
Gonta: The Story Of The Two-Named Dog In The Fukushima Disaster (Japan)
Dir. Akio Nishizawa
Master Zhong (China)*
Dir. WANG Yuxi/HUANG Shanchuan
The Inseparables (Bel-Fr-Sp)*
Dir. Jérémie Degruson
Documentary
Anxious In Beirut (Jor-Leb-Qat-Sp)
Dir. Zakaria Jaber
Leap Of Faith (China)*
Dir. YANG Lina
Moses' Spies (Israel)
Dir. Itzik Lerner
The Caravan (Sp-Mex)*
Dir. Núria Clavero/Aitor Palacios
The Passion Of Mahmoud (Iran)*
Dir. Davoud Abdolmaleki