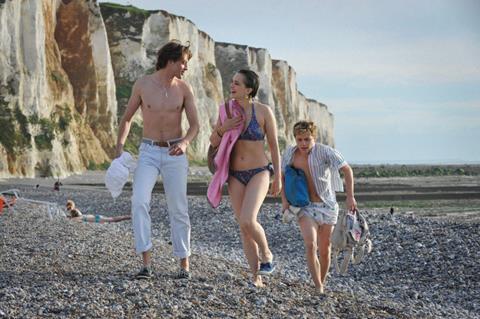 The ceremony for the 46th edition of France's prestigious César national cinema awards unfolds this evening (March 12) with a compact, socially distanced event at the Olympia concert hall in Paris, attended only by the nominees.
Voted on by the 4,292 members of France's Academy of Cinema Arts and Techniques, the awards are reserved for films that received a theatrical release in 2020, a year in which French cinemas wefre shut for a total of 23 weeks due to the Covid-19 pandemic, firstly in the spring and then again in the autumn. They remain shut as of today.
A total of 351 films, spanning 125 French features, 190 foreign language films and 36 short films were eligible for this year's awards with 45 titles making it through to the final round of nominations.
Frontrunners at the nomination stage included Emmanuel Mouret's love triangle drama Love Affair(s), Albert Dupontel's Bye Bye Morons and François Ozon's Summer Of 85 and Caroline Vignal's romantic comedy-drama My Donkey, My Lover & I.
This year's edition follows the tumultuous 45th ceremony in 2020, which was marked by the sudden resignation of the entire governing board just days before it was due to take place, amid criticism over a lack of transparency in the way it was run as well as gender equality and diversity in its ranks.
Alongside this, there was also controversy over the fact that Roman Polanski's An Officer and A Spy was the frontrunner at the nomination stage, in spite of fresh sexual assault allegations against him in the lead-up to the vote. The ceremony itself was a fractious affair marked by protests outside and a high-profile walkout by Adèle Hanael when Polanski was feted with best director.
Since then, the membership and leadership of the Academy of Cinema Arts and Techniques, which oversees the Césars, has been completely overhauled.
Last September, it held its first democratic election for a gender-equal governing board, voting in co-heads Véronique Cayla and Eric Toledano, who jointly preside over a gender-equal governing board made up of 42 professionals representing the academy's 21 chapters.
It remains to be seen whether the new composition will impact issues such as gender representation and diversity within the awards, although judging by this year's nominations work still needs to be done.
In the backdrop to this year's ceremony, in the meantime, a separate film industry controversy is growing around the ongoing closure of French cinemas as part of measures to combat coronavirus.
Theatres have been shut since the end of October last year following a second spike in cases and as yet the government has yet to indicate when they will able to open again, which is provoking increasing unrest, particularly among the country's exhibitors and distributors.