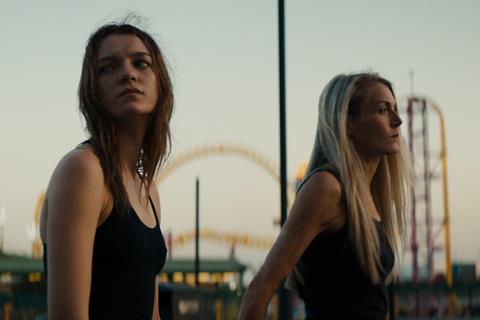 Sasha Polak's Silver Haze scooped the top prize at this month's Dinard Film Festival, the French seaside festival that spotlights UK and Irish cinema for French audiences, that ran from September 27 to October 1.
Berlinale Panorama title Silver Haze won the Golden Hitchcock for best film. Polak's feature reunites the Dutch filmmaker with UK actor Vicky Knight, after working together on Dirty God in 2019. It is loosely based on Knight's own experience as a child, in which she survived an arson attack.
The drama is a co-production between the Netherlands' outfit Viking Film and UK production company EMU Films. BFI Distribution will release in the UK, while The Jokers has the title for France. New Europe Film Sales represents sales.
Déborah Lukumuena took home the award for best performance for her role in Girl, Adura Onashile's Glasgow-set drama, that world premiered at Sundance and was the opening night film at Glasgow. Lukumuena plays a loving but fiercely protective mother, an African migrant to Scotland, who is grappling with her own trauma. New Europe Film Sales also reps this title, which Studio Soho has for the UK.
The jury's special prize and the audience award went to dark dinner party comedy The Trouble With Jessica, which world premiered at Dinard, directed by Matt Winn and starring Rufus Sewell and Shirley Henderson. Parkland Entertainment, the distribution arm of the film's sales agent Parkland Pictures, is releasing the film theatrically in the UK next year.
Naqqash Khalid's In Camera was the first ever recipient of the Talents de Demain award, which celebrates debut filmmakers. The title follows a young actor stuck in a cycle of nightmarish auditions, and stars Nabhaan Rizwan, Amir El Masry and Rory Fleck Byrne.
The jury for this year's edition was headed up by French actor Catherine Frot. She was joined by French representatives Alice Isaaz, Nolwenn Leroy, Thierry Godard, Jonathan Zaccaï, plus UK writer-director Destiny Ekaragha and Amelia Gething, a star of the big winner from last year's edition, Frances O'Connor's Emily.
Further UK industry in attendance included Bankside Films' Sarah Townsend, Metro International's Issy Carr, incoming director of the London Film School Chris Auty, plus 43 filmmaking guests from 19 titles in the line-up including Shoshana's Michael Winterbottom, How To Have Sex's Molly Manning Walker and Carol Morley, who presented four of her films as part of a retrospective of her work at the festival: Typist Artist Pirate King, Dreams Of A Life, Out Of Blue and The Falling.
UK visibility
Artistic director Dominique Green was pleased with how the local French audience engaged with the films of the 34th edition. "In terms of audience reactions to the films, it's been very strong. As of Friday morning, we had overtaken the total box office of last year. I believe we are going to finish around 30 to 40% up [on last year]."
As well as a line-up of UK and Irish independent cinema, a professionals' day took place, with the aim of exploring how to increase the visibility of UK independent films that are struggling to find distribution in France, in the wake of the UK's withdrawal from the European Union curtailing the financial support available for European distributors releasing UK film.
Professionals taking part came from a cross-section of French film festivals that focus on showcasing UK and Irish cinema included La Semaine du Cinema Britannique in Brest, Ajaccio's Under My Screen and Univercine in Nantes.

Bankside's Townsend, Metro International's Carr, Marie Foulon from French distributor Paname Distribution and former Wildbunch exec Marie-Pierre Valle also took part, alongside representatives from British Council France Anne Duncan and Sarah Bagshaw.
Suggestions included a more joined-up approach to programming between the different smaller UK and Ireland-focused French festivals to build visibility of titles across France, as is the case with a series of Latin American film festivals that take place throughout France in March. This would carry with the benefit of sharing the costs of talent attendance and subtitling for the festivals.
"It's absolutely clear, there is a real appetite for British independent cinema in France," said Green, who counts around 15 festivals dedicated to UK and Irish film across the country. "It's a question of finding ways to make it work economically, to the satisfaction of the sales agents and producers. We understand film festivals are cultural events, but there is a whole commercial side, and somehow we have to find a way to reconcile the two."
Most of Dinard's financing comes from local French public body Ville de Dinard. Green noted a lack of funding for this year's edition of the festival from the UK and Ireland. Last year's edition saw support from the BFI, Screen Scotland and Screen Ireland. This year, however, there was none.
"My fear is one day the French taxpayer is going to wake up to the fact that they are funding a huge boost to the British film industry," said Green. "Maybe one day, when the roads and services in their town are falling apart they may notice it.
"We had a very welcome but small grant from the British Council in Paris to help with our schools programme [10,000 French school children attended screenings in six cinemas of UK and Irish films], which was a tremendous success this year, and also to help with emerging talent. We had an enormous number of first films here this year, so that was a very welcomed contribution."
Green acknowledges the UK and Ireland's government-backed funders are having to tighten their purse strings. However, she observed one major hurdle in applying for funding. "A very big obstacle [with applying for BFI funding] is the diversity criteria, which we simply can't meet. In France, it's completely illegal to pose questions on socio-economic, race, sexuality. There is [audience] information we are simply not allowed to gather here."
She continued: "France can't be the only country where this is a problem. If we are really looking to increase the visibility of British films and talent, France should be the first stopping off point. For me, the power is for [the UK and Irish filmmakers] to be looking to Europe, not North America."