Expendables 2 director talks crowd-funding, a Con Air sequel and Tolkien & Lewis.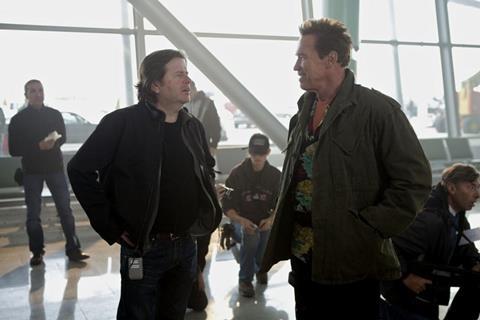 Con Air and The Expendables 2 director Simon West is turning to crowd-funding platform SyndicateRoom to help finance his upcoming action-comedy Salty.
In an unusual move for such a high profile film, UK investors are being invited to own a stake in the film by buying shares in company Salty Film Ltd via the equity crowd-funding platform SyndicateRoom.
According to West's Simon West Productions, angel investors have already bought £450,000 of equity in Salty Films, with remaining shares available at a minimum of £1,000.
The production is aiming for crowd-funding investors to make up £1.8m of the film's projected £5.9m ($10m) budget, with the remainder expected from pre-sales and tax credits.
West's production outfit is in advanced negotiations with a US sales outfit for the project, which the director hopes to shoot in 2015.
Salty follows a reformed sex-addict muso who is persuaded to take a holiday in Thailand by his wife, a former supermodel. Things take a turn for the worse when she's kidnapped by Thai pirates raising money to buy a new boat.
Mark Haskell Smith's original script, adapted from his novel of the same name, has been reworked by West and comedy writer Toby Davies (That Mitchell and Webb Look).
West, who described the script as "Spinal Tap meets The Hangover", told ScreenDaily that while cast has yet to be attached he expected the project to attract "big name talent".
Of the funding model, West explained: "During my two decades in the movie business I've funded films in a variety of ways, but for this one I was determined to break away from the big budget, big studio model.
"With the studios' deep pockets comes bureaucracy that's inefficient, expensive and which can stifle creativity.
"Salty will be different - and not just because it's the first time smaller investors have been able to buy into a major film's potential returns.
"As it's a privately funded film, my production team and I will keep creative control while keeping costs down, while also giving free rein to the very best the cast and crew have to offer."
Gonçalo de Vasconcelos, founder and CEO, SyndicateRoom, said: "For decades, investing in major Hollywood films has been a luxury reserved for the well-connected and the ultra-rich. At a stroke, Salty has changed all of that."
West, who recently wrapped on Jason Statham crime-thriller Wild Card, told ScreenDaily he is planning a return to the blockbuster fray.
"I definitely want to do another big summer blockbuster at some time. In fact, I have written a children's fantasy book that I want to adapt into a screenplay."
West is also working on a "spectacular fantasy film" about J.R.R. Tolkien and C.S. Lewis called Tolkien and Lewis, which will feature "extensive CGI and animation"; war-drama Thunder Run; and a "big international TV series" with band The Who.
Asked if he could he be tempted to return to action classics Con Air or Tomb Raider, West added: "There are always rumours about a Con Air 2.
"I would do it if it was completely turned on its head. Con Air in space, for example - a studio version where they're all robots or the convicts are reanimated as super-convicts, or where the good guys are bad guys and the bad guys are good guys. Something shocking. If it was clever writing it could work."