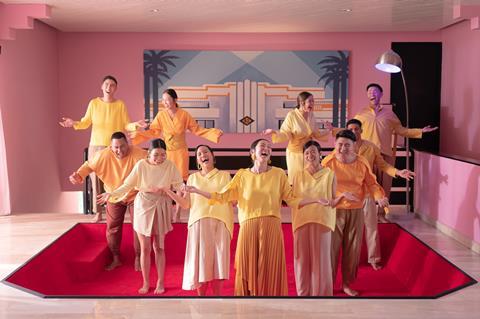 Tan Bee Thiam's Tiong Bahru Social Club is set to open the 31st Singapore International Film Festival (SGIFF), which will go ahead as physical event from November 26 to December 6.
The programme of 70 films from 49 countries is only slightly down on last year's line-up, and more than half the titles will also be made available online for audiences still wary of attending screenings during the pandemic.
"It's a difficult year for film festivals, yet it's a crucial year to keep going, showing films and continuing our development for filmmakers and audiences," said Kuo Ming-Jung, who has stepped up of SGIFF artistic director. Kuo is a former Taipei Film Festival programme director, who relocated to Singapore last year to take up the role of SGIFF programme director.
Organisers had considered shifting the entire festival online but decided to forge ahead with a physical edition after local cinemas started to reopen in July, following nearly four months of closures.
Speaking to Screen, Kuo said: "It took us some time to iron out the logistics and get clearance from various government bodies, including working through the new rules such as limited cinema seating capacity and making sure we have safety protocols in place."
Although uncertainties loomed large in the early planning stage, SGIFF was determined to build the core programme first and keep the long-running Silver Screen Awards intact with the two competitions for Asian feature films and Southeast Asian short films.
Eight films are presented in the Asian Feature Competition, all of which "take on personal and generational issues, challenge moralities or unspeakable violence, and collectively showcase the speed of change and momentous future of Asian filmmaking," said Kuo.
Five out of the eight competition films are directorial debuts, highlighting a new generation of promising Asian talent. These include the world premiere of Geranium by Turkey's Çağıl Bocut and No Love For The Young by Malaysia's Ridhwan Saidi as well as Dea Kulumbegashvili's award-winning San Sebastian feature Beginning.
Also in competition is opening film Tiong Bahru Social Club, which recently premiered in Busan and marks the solo directorial debut of Singapore filmmaker Tan. It will be screened alongside Shoki Lin's Newborn, a short film commissioned by SGIFF.
Festival favourites
Titles playing out of competition focus on contemporary features, from Venice and San Sebastian award-winners Nomadland, New Order and Wife Of A Spy to the latest films from Asian auteurs Lav Diaz, Tsai Ming-Liang and Naomi Kawase, and upcoming Asian talent in Singapore productions, Southeast Asian shorts and documentaries.
The Singapore Panorama includes four world premieres of local films: documentary Citizen Hustler by Tan Biyun; Faraway My Shadow Wandered by Liao Jiekai and Sudhee Liao; Not My Mother's Baking by Remi M Sali; and documentary Sementara by Chew Chia Shao Min and Joant Ubeda.
"During this exceptional year, we wanted to bring films that speak for the time we live in," said Kuo.
"They are not about the pandemic as these films were produced beforehand. That's the importance and the magic of film – that while it is not the quickest to respond to changes as an art form, films are still able to give us a bigger picture of our times.
"Through making films and watching films, we are able to realise that we are not alone and find within ourselves the enduring human spirit despite the global uncertainties."
While online screenings will be geo-blocked to Singapore, online talks and panel discussions will be made available to international audiences as well as post-screening Q&As. Talks include Japanese producer Shozo Ichiyama, Hong Kong art director-turned-filmmaker Man Lim Chung and the subject of his debut documentary Keep Rolling, Hong Kong auteur Ann Hui.
Southeast Asian talent
SGIFF also maintains its commitment to Southeast Asian talent through its Film Academy programmes - Southeast Asian Film Lab, Southeast Asian Producers Network, Youth Jury & Critics Programme and New Waves, all of which have been moved online. Due to travel restrictions, international guests and Film Academy participants can only join the festival virtually.
SGIFF announced its full line-up today via an online press conference, where Kuo was joined by the festival's new executive director Emily Hoe and new chairperson, Singapore filmmaker Boo Junfeng (Apprentice).
Other festivals
Other festivals are set to go ahead in Southeast Asia around the same time as SGIFF.
The 4th Malaysia International Film Festival (MIFFesT) announced its line-up of 19 films yesterday (November 2), including opening feature Victim(s) by Layla Zhuqing and closer The Story Of Southern Islet by Malaysian director Chong Keat Aun.
"We'll have in-person screenings in the cinemas and all of them will be free of charge to local audiences as part of our effort to support and stimulate the local film industry in these very difficult times," said festival founder Joanne Goh.
This year, MIFFesT, which runs from December 5-10, is also launching a new project market for Malaysian filmmakers, but the Malaysia Golden Global Awards (MGGA) will be cancelled due to Covid-19. Malaysia remains in a limited lockdown and cinemas have been closed in Klang Valley, where capital Kuala Lumpur is situated.
In addition, the 15th Jogja-NETPAC Asian Film Festival (JAFF), which runs from November 25-29, will take place as a hybrid edition of around 150 films. A number of in-person screenings will be held in the city of Yogyakarta where the festival was founded, while some of the titles will be streamed online in up to 20 different locations across Indonesia.
The 10th Luang Prabang Film Festival (LPFF) will be completely online from December 4-10 and extend its scope outside Laos with free streaming to audiences across Southeast Asia. Both JAFF and LPFF will unveil their line-ups in the coming weeks.