Montreal's genre film festival wraps with over 100,000 spectators attending across its 23 days of screenings.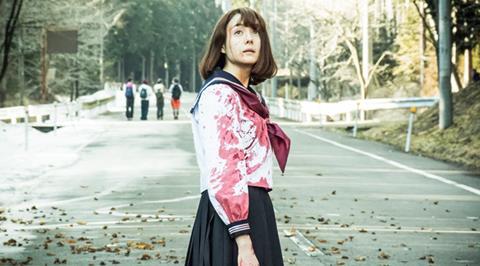 Sion Sono's Tag was among the winners at this year's Fantasia International Film Festival, which wrapped yesterday [Aug 4] with the Canadian premiere of Shinji Higuchi's Attack on Titan.
This year saw over 100,000 spectators attending across the festival's 23 days of screenings, including 195 indoor screenings, three outdoor screenings, eight virtual reality films and other special events, such as the debut international performance of Glass Eye Pix's live horror radio show Tales from Beyond the Pale.
Over 900 international guests, including more than 400 film industry professionals, visited the festival and its Frontières Market which saw two deals close during the market. Raven Banner boarded worldwide sales on Gigi Saul Guerrero's El Gigante, while Frank Murray of Lux Capta Films signed on as producer of Renaud Gauthier's 'Lude Behavior.
Guests included Jon Watts and Kevin Bacon for Cop Car, Michael Ironside, Laurence Leboeuf and Munro Chambers for Turbo Kid, and Keiicha Hara and Miho Maruo for the festival's opening film Miss Hokusai.
"We're all absolutely thrilled with how the festival went. A good number of our world premiere discovery titles are now in discussion for acquisition. Most importantly, just about every film, down to the most so-called 'difficult' works, managed to find their audience and get proper recognition," Mitch Davis, co-festival director, told ScreenDaily.
Notable world premieres at this year's Fantasia included Q & Nikon's Ludo, Ken Ochiai's Ninja the Monster, Sonny Mallhi's Anguish, Jacob Gentry's Synchronicity and horror anthology Tales of Halloween. Stephen S. Campanelli's Momentum was acquired by Starz for North America following its world premiere.
"Even after all these years, we're still amazed by how terrific our audience is, in terms of bravery, open-mindedness and passion. It's especially rewarding to see the brilliant, largely unknown indie debuts blow-up here. Every year, a good number of filmmakers tell us that their screening here was one of the greatest nights of their lives, and it makes me happier than words can articulate whenever I hear that," added Davis.
"At a time when many in the industry are prematurely bemoaning the death of theatrical exhibition as sands shift increasingly towards VOD, it's especially exciting to see huge, enthusiastic audiences continue to come out in support of individualistic filmmaking."
Awards
Tag won two of the festival's Cheval Noir awards for Best Film and Best Actress for Reina Triendl, as well as a special mention for its "creative, surprising, and monumental opening kill sequence".
Nobuhiro Yamashita's La La La at Rock Bottom scooped two prizes with Best Screenplay for Tomoe Kanno and Best Actor for Subaru Shibutani, while Mailk Bader won Best Director for Cash Only.
Mongrel Media's Andrew Frank presided over the Cheval Noir jury, which composed of film-maker Roxanne Benjamin, actor François Létourneau, FrightFest co-founder Ian Rattray and Blumhouse Productions' Ryan Turek.
Miguel Llanso's Crumbs won the New Flesh Award for Best First Feature Film, decided on by Epic Pictures' Patrick Ewald, Rue Morgue editor-in-chief Dave Alexander, comic artist Jimmy Beaulieu and Nikkatsu Corporation's Emico Kawai. Special mention went to Anucha Boonyawatana's The Blue Hour for "the artist's courage and vision".
Keiichi Hara's Miss Hokusai scooped the Satoshi Kon Award for Best Animated Feature Film with a special mention going to Sam's Possessed, while the inaugural Barry Convex Award for Best Canadian Feature or Co-Production was won by Larry Kent's She Who Must Burn, carrying a $1,000 prize courtesy of The Paul A. Ray Memorial Fund.
Audience award winners included Sion Sono's Love & Peace, David Ruhm's Therapy for a Vampire, RKSS' Turbo Kid, Ryan Wise's I Am Thor, Choi Ho's Big Match, Alberto Rodriguez's Marshland and Perry Blackshear's They Look Like People.
Highlights
As well as the live performance from Jon-Mikl Thor and Steve Price following I Am Thor and the 'Intro to Wakaliwood' night, it was two screenings with Fantasia ties that were among the highlights for co-festival director Davis.
"The Turbo Kid screening was likely the single craziest screening in our history, and also one of the most sweetly touching ones. We absolutely adore RKSS, they've been coming here since they were teens with fake IDs, and the audience loves them as much as we do. In so many ways, it was a heroic homecoming celebration, exploding with loving standing ovations and cheers," enthused Davis.
"On a related note, there was bottomless love in the room for long-time Fantasia friends Ted Geoghegan and Karim Hussain at the We Are Still Here screening, which was just a great vibe to take in."
Davis also described the Tales from Beyond the Pale performance as "pure joy", adding that Fantasia is always open to "mounting unconventional performance and expanded cinema events".
Takeshi Kitano's Ryuzo and the Seven Henchmen, Peyton Reed's Marvel outing Ant-Man, Michael Madsen's The Visit, Gilles Paquet-Brenner's Dark Places and closing film Attack on Titan were among the sold-out screenings at this year's Fantasia.
An additional day of programming takes place today [Aug 5], with encore screenings of Deathgasm, Assassination Classroom, A Christmas Horror Story, Cop Car and Attack on Titan.
The 19th edition of Fantasia International Film Festival was supported by 30 sponsor partners, ten media partners and over 125 advertisers. Its 20th edition will take place from July 14-Aug 2, 2016.