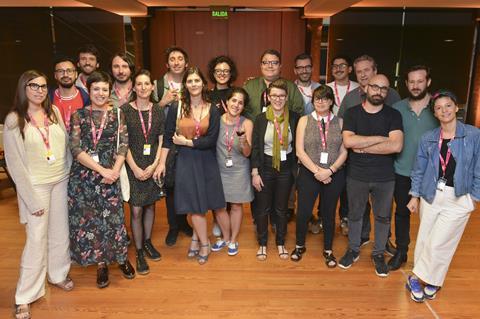 Six female directors and 11 female producers development projects in this year's Proyecta co-production programme organised by Ventana Sur and San Sebastian Film Festival.
The event, set to take place in Buenos Aires on December 4, aims to match 16 feature projects at development stage from filmmakers in Latin America and Europe with financing and international distribution.
For the second consecutive year, producers will present selected projects at a pitching session to professionals from the international film industry, followed by a series of meetings to discuss the work and potential collaborations in greater depth.
Proyecta comprises 12 Latin American projects from Argentina, Brazil, Chile, Costa Rica, Dominican Republic, Mexico, Peru and Uruguay selected by Paulo Roberto de Carvalho, Esperanza Luffiego, and Clara Massot, and four European projects from the San Sebastian Film Festival's VIII Europe-Latin America Coproduction Forum.
Two of the Latin American projects hail from Brazil and attend the market under the auspices of the EAVE Puentes-Europe/Latin America Co-production Workshop and Brazil CineMundi.
Among the 16 titles are nine first or second films, alongside works by established directors like Lucía Puenzo with Los Impactados, and Julio Hernández Cordón with The Day Is Long And Dark (My Friends are Vampires), who have participated in recent years in New Directors or Horizontes Latinos at the San Sebastian Film Festival.
The four projects from the VIII Europe-Latin America Co-Production Forum are: Juan Sebastián Torales' Almamula, winner of the Eurimages Prize for Co-production Development in San Sebastian; Daniel Gil Suárez's Sleepless Ana (Ana No Duerme); Karmele by Asier Altuna, who competed in official selection at San Sebastian Festival 2015 with Amama; and The Judges (Los Jueces) by César Díaz, whose first film Our Mothers won the Caméra d'Or in Cannes Critics' Week this year, and was selected for the Horizontes Latinos section in San Sebastian.
Selected Projects
A House In The Country (Casa No Campo, Brazil-Argentina)
Davi Pretto
Prod: Tokyo Filmes
Delirium (Delirio, Costa Rica-Chile)
Alexandra Latishev Salazar
Prod: La Linterna Films
The Anniversary (El Aniversario, Argentina)
Florencia Percia
Prod: Aleph Cine
The Day Of The Fish (El Día Del Pez, Peru-Dominican Republic)
Miguel Ángel Moulet Morales
Prod: El navegante Films
The Day Is Long And Dark (My Friends Are Vampires) / El Día Es Largo Y Oscuro (Mis Amigos Son Vampiros, Mexico-France)
Julio Hernández Cordón
Prod: Un beso
Los Impactados (Argentina-Chile-France)
Lucía Puenzo
Prod: Historias cinematográficas
Summer Night (Noche De Verano, Chile-Bolivia)
Christian Nawrath
Prod: Calamar Cine Ltda.
The Intrusion (O Estranho, Brazil-France)
Floras Dias y Juruna Mallon
Prod: Enquadramento Produçoes
Pepe (Dominican Republic-France-Colombia)
Nelson Carlo de Los Santos Arias
Prod: Monte y Culebra SRL.
Puta Historia (Uruguay)
Marta García y Sol Infante
Prod: Cordón Films
VIII Europe-Latin America Coproduction Forum - San Sebastián Film Festival
Almamula (France–Argentina-Luxembourg)
Juan Sebastián Torales
Prod: Tu Vas Voir
Sleepless Ana (Ana No Duerme, Spain-Argentina)
Daniel Gil Suárez
Prod. Solita Films S.L.
Karmele. The Hour Of Waking (Karmele. La Hora De Despertarnos Juntos, Spain-France)
Asier Altuna
Prod: Txintxua Films SL.
The Judges (Los Jueces, Belgium)
César Díaz
Prod: Need Productions
Latin America Co-Production Workshop
Streets Of Gloria (Calles De Gloria, Brazil-France)
Felipe Sholl
Prod: Syndrome Filmes
Brasil Cinemundi
Zion (Zião, Brazil)
Bruno Ribeiro
Prod: Oxalá