The Inbetweeners 2 led the way, but the summer period at the UK box office was down in both gross and admissions this year. Screen talks to distributors and exhibitors to find out why.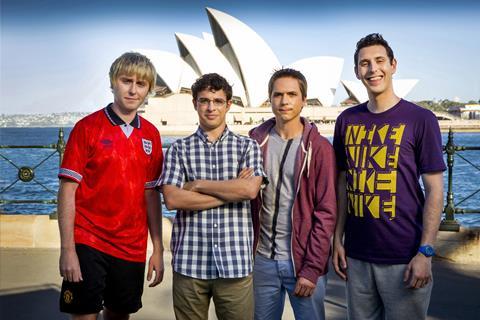 Scroll down for box office charts
Whether you look at gross or admissions, summer at the UK box office was far from vintage.
From May 2-Sept 4, overall gross was down 8.3% on 2013 at $651.8m (£398.4m), according to figures from Rentrak
The period's best performers were:
The Inbetweeners 2 ($53.8m/£32.9m);
Dawn of the Planet of the Apes ($53.2m/£32.5m);
X-Men: Days of Future Past ($44.3m/£27.1m).
Despicable Me 2, last year's top summer earner, is some way ahead of the lot with $77.7m (£47.5m), but the spread of box office wealth across the top 20 films is as stark a difference, with the 20th biggest summer hit of 2013 being One Direction: This is Us ($13.1m/£8m) compared to 2014's The Expendables 3 ($6.4m/£3.9m).
Is the reason as simple as the films on offer this year?
"This year, frankly, the stream of box office potential films has been much weaker," says Clare Binns, director of programming and acquisitions at Picturehouse Cinemas.
"Once the public start not going to the cinema each week, it's very difficult to get them back in."
Admissions down nearly 12%
The admissions figures bear that out. Across the same period, admissions totalled 54.5 million, down 11.7% on the 61.7 million who walked through cinema doors in 2013.
June was the softest month at 10.4 million, compared to last year's 13 million, which saw Despicable Me 2 start its stunning run at the end of the month.
Vue Cinemas' CEO and founder Tim Richards offers that it's not just the films on offer, but the ones that weren't that hurt.
"This summer in particular suffered from Fast & Furious being moved as well from a lack of family films," he says. "The main problem, though, has just been there's been a lot of good movies but there has not been the normal breakout into great and blockbuster films."
Disney/Pixar's The Good Dinosaur and Warner Bros' Jupiter Ascending were also among the notable films moved from the summer period.
Andrew Turner, UK director of sales at 20th Century Fox, expands on the performance of even their best titles across the summer.
"Even though we enjoyed terrific results from our franchise titles How to Train Your Dragon 2 and Apes, they still came in close to where we expected and didn't massively overperform," he explains.
"Surprisingly, Dragon just didn't pop like it deserved, compared to Despicable Me 2 - and that had Monsters University to compete with in subsequent weeks."
Box office enemies
Two of box office's biggest enemies were around over summer too: good weather and major sporting events. But these factors didn't just impact the UK.
"[In] Northern Europe we had our customers on the beach in Gdansk instead of going to the cinema, and we saw that in Germany too," says Vue's Richards.
"The weather definitely had an impact and the World Cup, for obvious reasons, had a major impact on our businesses in Germany."
Daniel Graham, head of theatrical sales at Arrow Films, explains: "It's an amalgam of many reasons including good weather, the cost of visiting the cinema, value for money in the eyes of the consumer and competing forms of entertainment often appearing more alluring, of better artistic quality and more economical."
He describes the performances of Wes Anderson's The Grand Budapest Hotel and Richard Linklater's Boyhood as ones that "reminded us of the power of positive word of mouth wedded to perceived value for money".
Binns admits those two films "really saw us through the summer", praising the work of their respective distributors - Fox and Universal - for "really working with exhibition and with us to get the most out of them".
Arguably, there's also an element of counter-programming in those particular releases, as well as with Disney's early summer success of Maleficent which took $31.6m (£19.3m) after its release on May 28.
"The counter-programming opportunity was very deliberate on our part when it came to Maleficent's release date," says Tom Batchelor, director of theatrical sales, UK & Ireland, at The Walt Disney Company.
"It worked out well for us, but the success of the film was also aided by strong reviews, great early press, a clear campaign, wonderful support from exhibition, interest in Angelina Jolie representing an iconic Disney villain and the strength of the Disney brand itself."
Surprise hit and alternative content
Disney arguably provided the surprise hit of the summer in the form of Guardians of the Galaxy, a relatively unknown property (despite the presence of Marvel) that went on to take $43.5m (£26.6m) across the period and is still going strong at the box office.
Guardians is the third biggest Marvel outing of all time in the UK, behind Avengers Assemble (£51.9m) and Iron Man 3 (£36.5m).
And even if the films might not have been performed as expected on the whole, this summer also saw the continued success of an increasingly important sector of the industry.
"For us, once again, it ought to be pointed out that alternative content helped us through," says Binns. "We released Monty Python Live (Mostly) which stormed it, and even though Doctor Who [Deep Breath] might not have performed at the multiplexes in the same way as the first one, it did great for us."
Other event cinema releases that enjoyed a prosperous summer at the box office included André Rieu's 2014 Maastricht Concert which became the highest-grossing music event of all time with $1.4m (£857,812), Secret Cinema's sold-out production of Back to the Future with $5.6m (£3.4m) across its run, and NT Live's Skylight which took $1.8m (£1.1m).
Strong titles coming soon
It's not all doom-and-gloom at the UK box office though despite the soft summer and expected yearly fall in admissions.
"The interesting part is for anyone who's been in the business a long time is that we've seen this before. If you look back in the UK the last ten years, we've had five years of admission drops year-on-year and coincidentally we've had five years of dramatic increases as well," notes Richards.
Citing the impact of Skyfall back in 2012 which saw admissions lift from a 12-month trading period of 162m to 173m, Richards adds: "One movie can have a very profound impact on box office and that's why we're really excited about the next few years because the studios have, really in an unprecedented way, blocked out dates for the release calendar right through to 2020."
The rest of the year carries some big hitters too with the likes of The Hobbit: The Battle of the Five Armies, Interstellar, Gone Girl and The Hunger Games: Mockingjay Part 1.
Two of 2013's biggest hitters - The Hobbit: The Desolation of Smaug and Frozen - were December releases.
"I think Gone Girl is going to kick-start this period," predicts Binns "If people start coming in for that, then we've got the likes of Interstellar, Paddington and The Imitation Game.
"There's a lot of stuff now out there, but we really need something that's going to energise the public."
Arrow's Graham agrees: "What we really need more of is product that offers consumers a perceived 'value for money' experience to help drive people back into the cinema.
"We also need more long term commitment to art house and foreign language cinema at an exhibitor level and for such films to not have to compete on a commercial level with studio backed product that open the same weekend."
Tom Linay, head of film at DCM, is hopeful for the period ahead. "Thanks in part to the World Cup and an unusually poor family slate, the summer was down year-on-year but with some of the year's biggest films still to come, Q4 should help claw back some of that deficit," he says.
Too many family titles
Ironically, from not having enough titles through the summer, Fox's Turner believes the issue for family films through the rest of the year is a build-up of titles over a key period.
"Christmas looks crazy with too many family titles - Nativity 3, Paddington, Get Santa, Penguins Of Madagascar, Tinkerbell, Night At The Museum 3 and Annie," he observes.
"It's a shame something couldn't have been brought forward to October half-term instead of all competing for the same audience at Christmas.
"Expectations from exhibition appear to suggest we will finish the year behind last year but it's still been a good year, especially for Fox who will be celebrating a record GBO well above £200m."
Disney's Batchelor believes that, however the year ends at the box office, it might not be any particular factors at play.
"This year just hasn't had that wealth of titles but that's the cyclical nature of the industry and always has been," he add. "By contrast, 2015 is going to be a stellar year for several distributors, big and small.
"On that basis, I think talk of 'saving' the year is a little dramatic. Interstellar, Hunger Games, Penguins of Madagascar and The Hobbit will round the year off nicely, but clearly not enough to bring admissions up to last year's levels.
"That's the nature of the business."
Total gross
| Month | Gross | 52 week change | Running gross | Year change |
| --- | --- | --- | --- | --- |
| May | £106.1m | -14.2% | £106.1m | -14.2% |
| June | £66.8m | -29.7% | £172.9m | -20.9% |
| July | £91.7m | 6.2% | £264.6m | -13.3% |
| August | £133.8m | 3.4% | £398.4m | -8.3% |
Source - Rentrak, based on period running May 2-Sept 4, 2014
Admissions
| 2013 | Admissions | 2014 | Admissions | Change |
| --- | --- | --- | --- | --- |
| May | 15.6m | May | 12.6m | -19% |
| June | 13m | June | 10.4m | -20.2% |
| July | 14.3m | July | 13.3m | -7.3% |
| August | 17.6m | August | 17.1m | -3.2% |
Source - EDI Rentrak
Top 10 summer films, 2014
| Film | Distributor (release date) | Opening gross (sites) | Gross (May 2-Sept 4, 2014 only) |
| --- | --- | --- | --- |
| The Inbetweeners 2 | Entertainment (August 8) | £12.5m (509) | £32.9m |
| Dawn of the Planet of the Apes | Fox (July 18) | £8.7m (563) | £32.5m |
| X-Men: Days of Future Past | Fox (May 23) | £9.1m (539) | £27.1m |
| Guardians of the Galaxy | Disney (August 1) | £6.4m (557) | £26.6m |
| How to Train Your Dragon 2 | Fox (June 27) | £604,325 (135) | £24.3m |
| Transformers: Age of Extinction | Paramount (July 11) | £11.8m (533) | £19.5m |
| Maleficent | Disney (May 30) | £6.6m (486) | £19.3m |
| 22 Jump Street | Sony (June 6) | £4.9m (456) | £18.6m |
| Godzilla | Warner Bros (May 16) | £6.4m (551) | £17.2m |
| Bad Neighbours | Universal (May 9) | £8.4m (509) | £16m |
Source - Rentrak, based on period running May 2-Sept 4, 2014
Top 10 summer films, 2013
| Film | Distributor (release date) | Opening (sites) | Gross (May 3-Sept 5, 2013 only) |
| --- | --- | --- | --- |
| Despicable Me 2 | Universal (June 28) | £14.8m (534) | £47.5m |
| Monsters University | Disney (July 12) | £3.5m (526) | £30.8m |
| Man of Steel | Warner Bros (June 14) | £11.2m (573) | £29.95m |
| Star Trek Into Darkness | Paramount (May 10) | £8.4m (556) | £25.8m |
| Fast & Furious 6 | Universal (May 17) | £8.7m (462) | £25.3m |
| The Hangover Part III | Warner Bros (May 24) | £6m (473) | £19.3m |
| The Great Gatsby | Warner Bros (May 17) | £4.1m (524) | £15.7m |
| World War Z | Paramount (June 21) | £4.5m (488) | £14.6m |
| Epic | Fox (May 24) | £3.2m (532) | £13.82m |
| The Wolverine | Fox (July 26) | £4.7m (522) | £13.77m |
Source - Rentrak, based on period running May 3-Sept 5, 2013