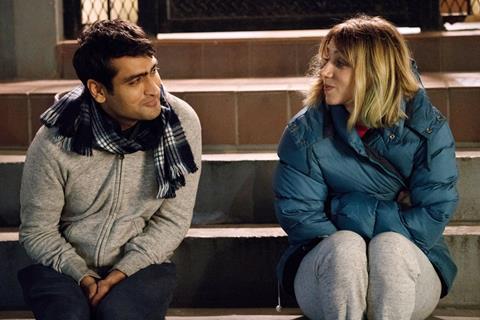 Is Film Dead? was a provocative question asked during this weekend's Zurich Summit in the wake of a slow year at the box office and a "crumbling" foreign sales market.
The response from Lionsgate's Patrick Wachsberger and Sony Pictures Classics' Michael Barker during a keynote conversation moderated by Roeg Sutherland (CAA) was a defiant "no."
"It (film) is absolutely not dead," Wachsberger told a packed audience of industry delegates in the Dolder Grand, citing the recent box office performance of It and the "wonderful summer" that Lionsgate itself enjoyed (20% up from last year) thanks to films like The Hitman's Bodyguard and The Big Sick.
He also disputed the idea that foreign sales are in free fall, pointing that the "international market for us probably this year represented about 70% of our revenues."
"Film is not dead, film has never been dead," Barker likewise said. "There has always been the prognosis that it (film) is dead. When sound came in, conventional filmgoing as people knew it [died]. When television came in, they said film was dead. When Pay-TV came in, they said going to the movie theatre was dead. What happens is that the paradigm constantly shifts, constantly changes and we have to change with it."
Revenue streams
What of Sony Pictures Classics' own summer? "We didn't have $100 million successes but again what is new about the marketplace is that you have to look at all the revenue streams. When Patrick and I first started, the only revenue stream you had was theatrical and occasionally a little television," Barker remembered.
"Now, there are so many different revenue streams that if you have an independent film that is a low budget independent film and you do between $5 and $10 million in the United States, you're (also) looking at your international revenues, your television revenues, your home entertainment revenues, your airline revenues. If you pay attention to every revenue stream, that's how you survive right now."
What's more, the films that SPC tends to make are evergreens. The company has racked up 159 Academy Award nominations over the years. Its titles have "long tails" and enduring reputations. "Tom (Bernard) (Co-Founder) and I have been together there for 25 years at Sony and we have seen those films can keep giving year in, year out, in a monetised sort of way."
Streaming giants
Wachsberger and Barker were even relatively sanguine in the face of the new challenges presented by Netflix and Amazon.
"I look at them as perfect partner," claimed Wachsberger. Lionsgate enjoyed success this year on Amazon with The Big Sick and its television arm produced one of Netflix's most successful shows Orange Is The New Black.
"I just think it's the way the market is evolving." Barker observed of the two streaming giants. "With Netflix, there's a possibility of being partners. It's not necessarily going to put you out of business but the fact they make a grand stand against theatrical exhibition, what it says is that there are so many companies out there which have different agendas, different ways of getting the you out there… you and the filmmakers have to make a decision where you want that film to be."
There have been recent examples of filmmakers wanting to go with traditional theatrical distributors even when (as Roeg Sutherland put it of Craig Gillespie's TIFF title I, Tonya) "Netflix was offering three times the money."
Younger viewers
Asked if it was a challenge now to get younger viewers to see "specialised movies," Barker said that it always had been. "Sometimes, you feel you have a breakthrough. With Crouching Tiger, Hidden Dragon, it took $128 million. It was an English subtitled film and we had this revelation that kids liked reading subtitles. It was the older generation that did not… we thought that would be a real breakthrough for foreign language films. It really wasn't. It was a one-off. It is always a challenge to get the younger audience in."
For its part, Lionsgate has had huge success in the past with YA (Young Adult) movies like Hunger Games in the past and is currently in production on another YA title, Chaos Walking, starring Tom Holland and Daisy Ridley.
Film may not be dying but Barker admitted that he still feels the same anxiety before a new SPC movie opens. "That never goes away. It's like watching a horse race, hoping your horse makes it."