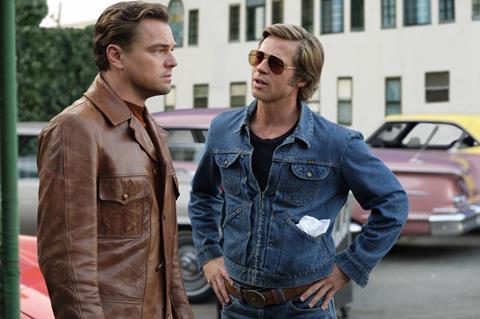 As controversy rages over the postponement by Chinese authorities of the release of Quentin Tarantino's Once Upon A Time… In Hollywood, Sony said on Wednesday (23) it will re-release the film in North America with four additional scenes.
Studio executives said more than 10 minutes of unseen footage will bookend the re-issue, which will go out in more than 1,000 locations in North America on Friday (25). That could be enough of a carrot to coax completists to see the film for at least a second time and push it to the top of Tarantino's box office pantheon.
Once Upon A Time… In Hollywood premiered in Cannes and has been a critical and commercial hit for the director. It currently ranks as the second biggest release of his career in North America on $139.8m, behind Django Unchained on $162.8m. It stands at $368.4m worldwide ($228.5m internationally), and ranks as his second biggest film after Django Unchained on $425.4m. It is Tarantino's biggest hit in the UK.
The release in China had been expected to add considerably to the global running total. When news of the postponed released emerged last week, Hollywood sources suggested the film's violent content struggled to make it past the local censors. However one trade report indicated that an intervention by Shannon Lee over the depiction of her father, the late martial arts legend Bruce Lee, might have been a decisive factor.
"Audiences have shown tremendous support for this movie, and we look forward to offering them another opportunity to see the film as it's meant to be seen – in theaters on the big screen – with more sights and sounds of the sixties from Quentin Tarantino as an added treat," said Adrian Smith, president of domestic distribution, Sony Pictures Motion Picture Group.
Brad Pitt, Leonardo DiCaprio, and Margot Robbie star in Once Upon A Time… In Hollywood.