Sony's sequel records biggest opening of 2014 with $15.2m (£9m); eOne's The Love Punch lands with $1m (£611,000) from 373 sites.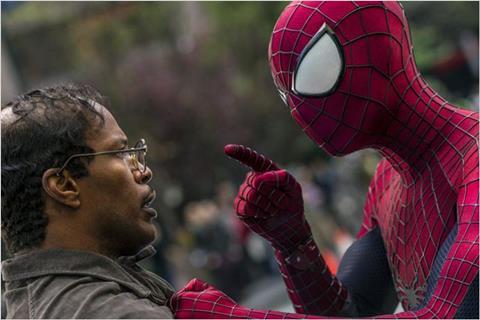 A superhero once again leads the way at the UK box office with The Amazing Spider-Man 2 dethroning Captain America over the Easter weekend.
Sony's sequel caught $15.2m (£9m) in its web from its 548 sites, including $4.8m (£2.9m) in previews, to post the year's biggest opening surpassing The Lego Movie's $13.5m (£8.05m) including $3.6m (£2.16m) previews.
Its Fri-Sun takings of $10.3m (£6.1m) would have also seen it comfortably land the top spot.
Overall, that's down on The Amazing Spider-Man's $18.7m (£11.1m) opening from 552 sites, but it's worth noting that opening contained $7.2m (£4.3m) in previews from one extra day of release.
The Amazing Spider-Man went on to take $43.7m (£26m) in the UK for the lowest return of any Spider-Man outing, so the sequel has a steady base to build on as it aims to surpass that tally.
ADMISSIONS
March admissions at the UK box office totalled 10.4m, down on March 2013's 10.9m tally. Overall, the first quarter of 2014 has recorded 39.9m admissions, compared to 41.9m over Jan-March 2013.
FOX
With the strongest holdover of the top ten, dropping just 23%, Rio 2 climbed up to second with $1.9m (£1.1m).
Fox's animated sequel stands at $17.3m (£10.3m) as of Monday [April 21], with its strong Easter showing giving it a chance of catching Rio's $22.8m (£13.56m) result.
Also for Fox, The Grand Budapest Hotel fell only 19% to check into an additional $308,000 (£183,127) for $17.4m (£10.3m) to date, while Mr. Peabody & Sherman has travelled to $22.3m (£13.2m) after 11 weeks in play.
PARAMOUNT
Falling one place to third was Paramount's Noah as it sailed to a further $1.5m (£920,000) over Fri-Sun. Including Bank Holiday Monday, Darren Aronofsky's latest is up to $13.6m (£8.1m) in the UK after three weeks in play.
DISNEY
Unsurprisingly taking a hit with the arrival of a fellow superhero, Captain America: The Winter Soldier fell just over 50% on its way to $1.4m (£832,000).
Disney's latest Marvel Studios outing did enjoy a fruitful week with the Easter school holidays, lifting its running total to $28.7m (£17.03m) as of yesterday. It will overtake Iron Man's $29.3m (£17.4m) in the coming days, with Thor: The Dark World's $33.9m (£20.1m) its next potential target.
Also for Disney, Muppets Most Wanted added $616,000 (£366,000) after a 39% drop to climb to $10.7m (£6.33m), while Frozen stands at $66.9m (£39.75m).
EONE
Rounding off this week's top five was eOne's The Love Punch, with a solid debut of $1m (£611,000) from its 373 sites. That's narrowly behind the $1.1m (£640,390) UK debut from 302 sites for director Joel Hopkins' previous UK outing, Last Chance Harvey.
Crossing the £5m mark in its third weekend was Divergent with $841,000 (£500,000) to stand at $9.2m (£5.44m) through eOne, the second of three releases from the distributor in this week's top ten.
Also for eOne, Calvary fell just 31% with a second weekend of $654,000 (£389,000) from its 169 sites. Director John Michael McDonagh's second feature has amassed $2.3m (£1.39m) and is unlikely to catch The Guard's $7.7m (£4.6m) UK result.
The Raid 2 fought its way to $209,000 (£124,000) for $1.4m (£830,000) after two weeks in play. It should surpass The Raid's $1.8m (£1.07m) UK haul, barring a dramatic collapse.
LIONSGATE
Driving into 119 sites through Lionsgate, Locke recorded a healthy UK debut of $423,000 (£251,063), including $11,000 (£6,657) from nine previews. That's up on the opening of Stephen Knight's directorial debut Hummingbird which took $348,000 (£206,731) from 262 sites.
Including Monday, Locke stands at $524,000 (£311,180).
Also for Lionsgate, The Quiet Ones dropped a hefty 67% in its second weekend to take $313,000 (£185,734) and has so far scared up $2.3m (£1.3m).
WARNER BROS
Now up to $55.4m (£32.96m) in the UK, The Lego Movie posted a $230,000 (£137,000) tenth weekend through Warner Bros.
ARTIFICIAL EYE
Based solely on Fri-Sun, The Lunchbox boosted 18% in its second weekend with $126,000 (£75,064) through Artificial Eye. Ritesh Batra's well-received directorial debut has now grossed $385,000 (£228,854) in the UK.
METRODOME
Released in 42 sites through Metrodome, We are the Best! posted a UK bow of $89,000 (£52,729).
In terms of director Lukas Moodysson's Lilya 4-Ever ($65,000/£38,800 from 13) but down on Together ($118,000/£70,054 from 16).
STUDIOCANAL
In its third weekend of release, StudioCanal's The Double grossed a further $57,000 (£34,048) for $1.2m (£701,265).
SODA PICTURES
Holding well in its second weekend of release, Half of a Yellow Sun added $31,000 (£18,371) through Soda Pictures for $118,000 (£70,271) to date in the UK.
PECCADILLO PICTURES
From one site and one show at the ICA in London, Reaching for the Moon grossed $885 (£526) through Peccadillo Pictures.
UPCOMING RELEASES
This week sees saturation releases for Fox's The Other Woman (opens April 23) and Entertainment's Transcendence, following previews over April 18-21.
eOne's Tracks, Artificial Eye's Exhibition, Peccadillo Pictures' Cupcakes and Metrodome's We are the Freaks are among the films receiving a limited release.