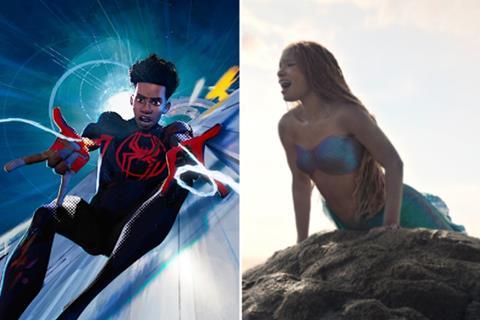 Worldwide box office June 2-4
| | | | | | | |
| --- | --- | --- | --- | --- | --- | --- |
| Rank | Film (distributor) | 3-day (world) | Cume (world) | 3-day (int'l) | Cume (int'l) | Territories |
| 1. | Spider-Man: Across The Spider-Verse (Sony) | $208.6m | $208.6m | $88.1m | $88.1m | 60 |
| 2. | The Little Mermaid (Disney) | $82.9m | $326.7m | $42.3m | $140.5m | 53 |
| 3. | Fast X (Universal) | $50.6m | $603.3m | $41.4m | $474.8m | 85 |
| 4. | The Roundup: No Way Out (various) | $25.3m | $27.9m | $25.1m | $27.7m | 4 |
| 5. | Guardians Of The Galaxy Vol.3 (Disney) | $22.6m | $780.1m | $12.4m | $457.4m | 53 |
| 6. | The Boogeyman (Disney) | $20m | $20m | $7.7m | $7.7m | 48 |
| 7. | The Super Mario Bros. Movie (Universal) | $11.8m | $1.3bn | $8.4m | $734m | 82 |
| 8. | Castle In The Sky (various) | $6m | $12.8m | $6m | $12.8m | 1 |
| 9. | Doraemon The Movie: Nobita's Sky Utopia (various) | $4.2m | $42.3m | $4.2m | $42.3m | 1 |
| 10. | Godspeed (various) | $3.9m | $155m | $3.9m | $155m | 4 |
Credit: Comscore. All figures are estimates.
'Spider-Man' animation surges past opening of 'Into The Spider-Verse'
UPDATED: Columbia Pictures and Sony Pictures Animation had plenty to celebrate with the launch of Spider-Man: Across The Spider-Verse, achieving Sony's biggest animated opening of all time, with an estimated $120.5m in North America and $88m in 59 international markets. The numbers combine for a worldwide debut of $208.7m.
The film's international total is 2.8 times the opening of 2018's Spider-Man: Into The Spider-Verse in like-for-like markets, excluding China, and is also 40% ahead of last week's international launch of The Little Mermaid for the same group of markets. In North America, the estimated debut is 3.4 times Into The Spider-Verse's $35.4m opening.
China led the international pack, with a $17.3m opening, then Mexico with an estimated $11.6m, just ahead of UK/Ireland with $11.4m.
Europe took an estimated $30.5m overall, powered by the UK/Ireland number, with France (a confirmed $3.9m) ahead of Italy ($2.6m), Spain ($2.3m) and Germany ($2.1m).
In Asia, China was followed by India ($2.8m) and Indonesia ($1.7m). Japan and South Korea are both yet to open – those dates are set respectively for June 16 and 21.
In Latin America, Mexico led Brazil (a confirmed $3.7m) followed by Peru ($1.5m).
Into The Spider-Verse grossed powerful multiples of its opening numbers over the course of the film's lifetime (5.4 times the opening in the case of North America, for example). High anticipation for the sequel means that fans have rushed out to see it, and Sony will expect a quicker burn this time around.
Still, Across The Spider-Verse should have no trouble speeding past the $190.2m North America total for Into The Spider-Verse, and ditto that film's international lifetime tally of $194.0m. Across The Spider-Verse is already 54% of the way to matching the earlier film's global lifetime total of $384.3m.
Spider-Man: Across The Spider-Verse is the first of a two-part conclusion to the multiverse story that began with Into The Spider-Verse, and concludes next year with Spider-Man: Beyond The Spider-Verse. Both concluding parts are directed by trio Joaquim Dos Santos, Kemp Powers and Justin K Thompson; written by Dave Callahan, Phil Lord and Chris Miller; and produced by Lord and Miller alongside Avi Arad, Amy Pascal and Christina Steinberg.
'The Little Mermaid' enjoys strong traction outside North America
UPDATED: On its opening weekend, Disney's The Little Mermaid remake proved significantly more potent in North America than in international markets, but the second session shows the film performing slightly better in the latter – albeit still lagging in cumulative total.
The Little Mermaid grossed an estimated $40.6m in North America at the weekend, declining 58%, plus $43m from 52 international markets – a drop of just 34%.
The film has now grossed $186.9m in North America and $141.1m for international, combining to deliver $328m worldwide
UK/Ireland, where most regions were wrapping up a week-long school holiday, fell just 17%, and drops were likewise gentle in Germany (-21%), Brazil (-22%) and Italy (-23%). Some smaller markets did even better in percentage terms, with Singapore up 4%, Indonesia down 7%, and respective drops of 10%, 11% and 12% in Poland, South Africa and Austria.
Despite the formidable challenge of Across The Spider-Verse, The Little Mermaid held on to the top spot in Italy and several smaller markets including Philippines.
Among international markets, UK/Ireland has now overtaken initial top territory Mexico to lead with a $20.1m total after a $5.3m weekend. Mexico is next with $14.6m after a $4m haul, ahead of Italy ($9.3m/$3.2m), Brazil ($8.6m/$3.2m) and France and Australia tied with $7.4m, after $2.4m and $2.7m weekends, respectively.
China and South Korea continue to disappoint. China does not feature in Disney's list of 12 top international territories so far – a chart propped up by Argentina with $3.9m. South Korea ranks ninth with $4.4m to date.
With $327m so far, The Little Mermaid is already 93% of the way to reaching the $353m lifetime total of Disney's Dumbo remake from 2019; and has achieved 60% of the $542m lifetime gross of 2015's Cinderella. Other remakes such as Beauty And The Beast (2017), The Lion King and Aladdin (both 2019) all achieved for higher totals, above $1bn, with 2016's The Jungle Book just below the magic number on $968m.
'The Boogeyman' launches with $20m worldwide
North America proved reasonably potent for Disney's release of The Boogeyman, adapted from the 1973 short story of the same name by Stephen King – but is comparatively weak overseas.
In North America, the supernatural horror film landed in third place with an estimated $12.3m. Among international markets, it's in seventh place with an estimated $7.7m. Those numbers combine to deliver a $20.0m global opening – and sixth place in the worldwide weekend ranking.
Mexico, which traditionally scores well with supernatural horror, led the international pack with an estimated $800,000, ahead of UK/Ireland and France both with $600,000. These estimated figures are rounded to nearest $100,000.
Also for Disney, Guardians Of The Galaxy Vol 3 added an estimated $22.6m globally in its fifth session, taking the total so far to $780.0m. It remains the second-highest-grossing global release of 2023 to date, behind Universal's The Super Mario Bros. Movie.
Vol 3 has now overtaken the $773.4m lifetime total achieved by the original Guardians Of The Galaxy in 2014. And it's now 90% of the way to matching the $863.8m lifetime total of 2017's Guardians Of The Galaxy Vol 2.
'The Roundup: No Way Out' dominates South Korea box office
Crime action sequel The Roundup: No Way Out landed with a blaze of glory at the top of the South Korean box office, with a reported $21.9m – and an 88% market share. The film is a sequel to 2022's The Roundup, which opened with $21.2m on its way to a $99.8m total in South Korea.
Don Lee stars as a muscular detective working at a major crimes unit. Both Roundup films are sequels to the 2017 film The Outlaws, which introduced the character. The Roundup and No Way Out are both directed by Lee Sang-yong.
Data gatherer Comscore reported weekend box office of $25.4m for The Roundup: No Way Out across four markets. The film is also on release in North America (grossing an estimated $200,000), Hong Kong and Taiwan.
'Fast X' hits $600m; 'Super Mario' passes $1.3bn
UPDATED: Two films from Universal passed box office milestones at the weekend: Fast X added a confirmed $52.1m in its third session, and has pushed past $600m for a $604.8m total. The Super Mario Bros. Movie added $12.3m in its ninth weekend of play, nudging the film past a $1.30bn total.
Fast X is chasing the $726.2m global total achieved by previous franchise entry Fast & Furious 9, which released in a still-Covid-challenged 2021.
The Super Mario Bros. Movie has now overtaken Frozen to become the second-biggest animated film of all time at the worldwide box office, behind only Frozen II ($1.45bn). It's now also the 19th biggest film of all time, and needs to add another $10m to catch Jurassic World: Fallen Kingdom, in 18th place with $1.31bn.