JULY 17 UPDATE: War For The Planet Of The Apes in $44.2m international launch; Despicable Me 3 crosses $400m.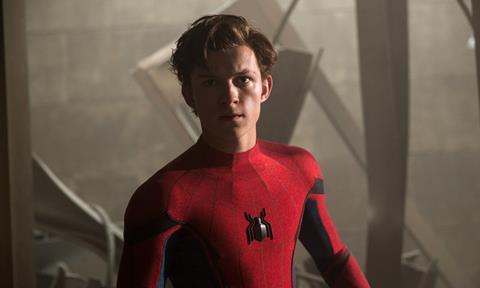 SONY PICTURES RELEASING INTERNATIONAL
UPDATED: Spider-Man: Homecoming grossed $71.2m at the weekend from 20,800 screens in 63 markets to boost the running total to $260.1m.
In South Korea, the film held the number one spot for the second consecutive weekend on $11.7m for $42m, which makes this instalment the highest grossing Spider-Man film and the biggest US release of 2017.
Latin America dropped 44% as a region and seven markets, including Brazil and Mexico, retained the number one spot. Leading the way, Brazil delivered $5.5m after a 38% drop for $19.1m, making it the biggest Spider-Man film ever. Mexico produced $4.3m from 2,897 screens for $20.2m.
In Europe, the film debuted at number one on $6.3m in France amid fierce summer competition, and Germany delivered a number two $3.7m launch that includes previews. The webslinger dropped 43% in its second weekend in the UK on $4.9m from 1,223 screens for $21.8m. Australia generated $3.8m from 621 screens for first place, bringing the total to $14.5m. Belgium, Spain, Japan, and China are yet to open.
Sony and Marvel's Spider-Man: Homecoming earned a further $7m from 694 IMAX screens globally, lifting the web-slinger's IMAX total to $30m. Japan and China are the remaining IMAX markets yet to open.
TriStar Pictures and MRC's Baby Driver added $6.2m for $23.2m. Europe experienced good holds, dropping only 26% in the UK and 14% in the Netherlands. The thriller debuted in Australia on $3.5m including previews from 412 screens.
Upcoming key market releases include Brazil and Germany on July 27.
UNIVERSAL PICTURES INTERNATIONAL
UPDATED: Illumination's Despicable Me 3 crossed $400m at the international box office on Saturday. The animation added $72.7m from 61 territories for a total of $434m to date. The worldwide total is $622.4m, with $188.4m coming from North America.
Despicable Me 3 opened number one in Indonesia on $3.5m, setting the record for the biggest opening day and opening weekend ever for an animated film in that market.
China generated $21.7m for $1145.m after two weekends, making it the fourth highest grossing animated film of all time in China and the second highest non-Chinese animated film behind Zootopia's $235m.
In Latin America there were number one rankings for the third week in a row in Argentina, Chile, Paraguay, Portugal, Uruguay and Venezuela.
France, Germany and Austria are holding at number one for the second week in a row ahead of the opening of Spider-Man: Homecoming.
The UK has generated $33m, while Mexico stands at $28.4m, Brazil $25.7m, Australia $22.6m, France $21.2m, Russia $20.9m, Germany $19m, Spain $15.3m and Argentina $14.3m. There are six more territories to release over the next two months, starting with Japan on July 21.
The Mummy grossed $2m from 69 territories over the weekend to raise the international total to $311m. With $79m from North America, the film stands at $390m.
With the majority of markets in the final stages of their runs, China remains the top market on $91.5m, followed by South Korea on $27.6m, Russia on $16.8m, Brazil $14.2m, Mexico $13m, the UK $11.1m, and France $9.4m.
In Taiwan, the 'Dark Universe' title has produced $9.4m, Spain $8.9m, Indonesia $8m, Australia $7.8m, Germany $7.8m, India $7m, Malaysia $5.5m, Hong Kong $5.1m, Italy $5m, Argentina $4.5m and Colombia $4m. Japan will be the final territory to open on July 28.
The Beguiled has grossed $1.2m from 10 territories for an early total of $2.4m. The gothic drama stands at $11.8m worldwide, with $9.4m coming from North America.
The UK delivered a number six debut and generated $517,000 in director Sofia Coppola's best opening weekend since Lost In Translation.
Australia produced a number eight launch on $414,000, making The Beguiled Coppola's biggest opening weekend after passing Lost In Translation.
FOX INTERNATIONAL
UPDATED: War For The Planet Of The Apes debuted in 61 markets on $44.2m as the final instalment of the Planet Of The Apes trilogy starring Andy Serkis, Woody Harrelson and Steve Zahn and directed by Matt Reeves reached $100.7m worldwide after a $56.5m debut in North America.
Only two of the top 10 international markets and less than a third of the international marketplace are currently in release.
The action tentpole produced the biggest opening of the franchise in 28 markets, with an opening weekend that is 61% greater than Rise Of The Planet Of The Apes, and on par with Dawn Of The Planet Of The Apes, in the same group of countries at current exchange rates.
Caesar and friends (and enemies) debuted in the UK on $9.3m including previews, followed by Russia on $5.3m, and Spain $3.3m. Each market delivered a number one result.
The next top grossing markets – all of which also produced number one debuts – are India on $2.5m, Taiwan on $2.1m, the UAE on $1.8m, Hong Kong on $1.7m, Malaysia $1.4m, Italy $1.3m, and Thailand $1.4m.
China, South Korea, Japan, France, Germany, Australia, Brazil, and Mexico will roll out throughout the rest of the summer.
CHINA UPDATE
Wukong grossed a further $37m as the running total climbed to $57.8m. Derek Kwok's fantasy action adventure is based on the internet novel Wukong Biography.
PARAMOUNT PICTURES INTERNATIONAL
Transformers: The Last Knight grossed $6.7m from 48 markets, including one new launch. It stands at $392.4m internationally.
China grossed $1.7m for $225m after four weekends and France delivered $998,000 for $9.8m. Meanwhile, Germany added $938,000 from 493 sites for $13.8m. The action adventure opens in Brazil and Mexico this week.
Dwayne Johnson and Zac Efron comedy Baywatch grossed $2.8m from 45 markets, including two new openings, bringing the international total to $106.8m. There are four markets still to release, including Indonesia and the UAE this week.
WARNER BROS PICTURES INTERNATIONAL
UPDATED: Wonder Woman grossed $3.7m from roughly 3,000 screens in 61 markets, bringing the international sum to $385.3m. Patty Jenkins' tentpole stands at $765.9m globally.
China is the top market on $88.8m, followed by Brazil on $32.6m, the UK on $27.6m, Australia on $22.6m, Mexico on $22.5m and South Korea on $15.5m.
In France, the film starring Gal Gadot has generated $15.2m, while Taiwan has produced $11m. The Philippines $10.6m, Indonesia $8.6m, Russia $8.5m, and Germany $8.5m. Japan debuts on August 25.
Yûichi Fukuda's Gintama debuted in Japan on $6.3m from 353 screens, ranking number two. Weekend figures for the live-action remake more than doubled the opening weekend grosses for Museum and the animated Gintama. It surpassed Gintama 2 by 90%, opened 35% ahead of Rurouni Kenshin, and arrived 17% ahead Death Note: Light Up The New World.
Gintama is a Gintama Film Partners Production, led by Warner Bros. Pictures Japan.
WALT DISNEY STUDIOS MOTION PICTURES INTERNATIONAL
UPDATED: Cars 3 widened its international footprint this weekend opening in five significant markets and grossing $20.3m. Pixar's latest animation stands at $83.1m internationally.
In Europe, Cars 3 debuted in Spain and the UK. The UK generated $3.4m, which is only narrowly behind the openings of Cars 2 and Cars, which both opened during full holiday periods, and debuted 2% ahead of Kung Fu Panda 3, which opened in the same period.
Spain delivered $1.8m in second place behind the opening of War For The Planet Of The Apes.
The animation opened in both Japan and Korea this weekend. Japan debuted on $2.8m, making it the number two Western release. The opening was 24% behind that of Inside Out. South Korea produced $1.9m, placing Cars 3 at number two for the weekend behind Spider-Man: Homecoming. The opening was 32% ahead of Cars 2 and 86% ahead of Cars.
In Latin America, Cars 3 debuted in Brazil and Argentina. Brazil generated $3.2m, just 5% behind Cars 2. Argentina produced $2.1m, 32% ahead of Cars in admissions. The film also arrived in Chile and posted the third highest Pixar opening behind Monsters University and Toy Story 3.
Top markets are Mexico on $15.3m, Russia on $10.4m, Australia on $9m, Poland on $3.6m, Panama on $3.5m, the UK on $3.4m, Colombia on $3.3m, and Brazil on $3.2m. The film opens in Portugal this week.
Pirates Of The Caribbean 5 has now crossed the $750m mark at the global box office and with $584.4m internationally is the number three international release of the year behind only The Fate Of The Furious and Beauty And The Beast.
The film, which stands at $751.8m, is the number five release of 2017. It remains number one in Japan for a third consecutive week, adding $5.2m to bring the total to $33.9m. The film's two top international markets are China on $172.3m and Russia on $40.5m, where it is the number two release of all time.