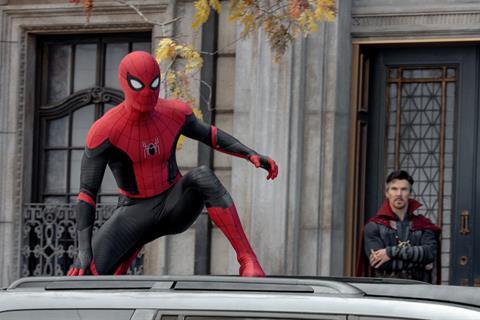 Worldwide box office January 7-9
| Rank | Film (distributor) | 3-day (World) | Cume (World) | 3-day (Int'l) | Cume (Int'l) | Territories |
| --- | --- | --- | --- | --- | --- | --- |
| 1. | Spider-Man: No Way Home (Sony) | $97.4m | $1.53bn | $64.4m | $867.5m | 64 |
| 2. | Sing 2 (Universal) | $29m | $190.8m | $17m | $81.8m | 55 |
| 3. | The King's Man (Disney) | $16.6m | $74.2m | $13.4m | $49.2m | 44 |
| 4. | Embrace Again (various) | $10.9m | $112.5m | $10.9m | $112.5m | 5 |
| 5. | The Matrix Resurrections (Warner Bros) | $9.5m | $124.5m | $7.7m | $90.2m | 77 |
| 6. | G Storm (various) | $8.9m | $76.2m | $8.9m | $76.2m | 6 |
| 7. | Another Me (various) | $8.4m | $50.6m | $8.4m | $50.6m | 1 |
| 8. | The 355 (various) | $6.3m | $6.3m | $1.5m | $1.5m | 12 |
| 9. | Encanto (Disney) | $6.3m | $215.5m | $5.8m | $123.1m | 37 |
| 10. | The Last Warrior 3 (Disney) | $6m | $25m | $6m | $25m | 9 |
Credit: Comscore, all figures estimates, click top right to expand
'Spider-Man: No Way Home' passes $1.5bn barrier
The past seven days have seen Spider-Man: No Way Home move up another four places in the all-time global box office – with takings to date of $1.54bn.
The Sony release pushed past Avengers: Age Of Ultron, Frozen 2, Fast & Furious 7 and The Avengers (aka Marvel Avengers Assemble) in its steady rise up the global rankings. Next in its sights: Disney's The Lion King remake ($1.66bn, ranked seventh) and Universal's Jurassic World ($1.67bn, sixth). The all-time global chart is led by Avatar ($2.85bn).
The January 7-9 weekend session saw No Way Home add an estimated $97.4m: $33.0m from North America and $64.4m in international.
The film received a particular boost thanks to its arrival in Japan, grossing an estimated $11.8m at the weekend. International holdover markets declined 36%, led by UK/Ireland with an estimated $6.2m, down just 25% from the New Year weekend.
In cumulative totals, UK/Ireland likewise leads the way, with $105.8m, ahead of Mexico ($69.7m), South Korea ($55.8m), France ($55.2m), Australia ($47.5m), Brazil ($46.9m), Russia ($41.4m), Germany ($36.7m), India ($35.3m) and Spain ($25.7m).
No Way Home is already the second-biggest film of all time in both Mexico and Indonesia (which has a $24.6m total), and is the second-biggest US film of all time in India.
Including Avengers: Endgame, Avengers: Infinity War and Captain America: Civil War, the six films featuring Holland credited as Spider-Man have grossed a collective $9.5bn. (The actor is uncredited in Venom: Let There Be Carnage.)
Next to open No Way Home are Slovakia (January 13) and Norway (January 28). A China release has yet to be determined.
'The 355' stumbles in early markets
Female-fronted action film The 355 has stumbled in early markets, with an estimated $4.8m opening in North America for Universal and just $1.58m for the first 11 international territories. Those numbers combine for opening weekend box office of $6.38m – landing in eighth place in the weekend global ranking. Universal's sole international market, UK/Ireland, began with an estimated $491,000 – landing in seventh place in the territory's weekend chart.
Jessica Chastain stars as a CIA agent joining forces with other international agents, and co-stars alongside Diane Kruger, Penelope Cruz, Lupita Nyong'o and Fan Bingbing. Simon Kinberg (X-Men: Dark Phoenix) directs.
'Sing 2' pushes towards $200m
Universal's Sing 2 proved the second-biggest film at the global box office at the weekend, thanks to an estimated $11.9m for North America and $17.1m for international, combining to $29.0m overall. Cumulative total is $190.8m.
In international markets, where Sing 2 expanded from 48 to 54 territories, the Illumination Entertainment animation fell just 24% from the previous weekend. New territories include South Korea, which launched with an estimated $2.2m, and Brazil, beginning with $1.4m – the best for an animated title in the pandemic era.
In cumulative totals, France leads the international pack with $14.7m, while Russia is surging up the table thanks to its current holiday period, and has now reached $10.0m.
The original Sing movie grossed $634m in 2016: $270m in North America and $364m for international.
Key markets yet to open Sing 2 include Germany (January 20), UK/Ireland (January 28) and Japan (March 28).
'The King's Man' adds $17m for $74m total
Disney's The King's Man moves up to third place in the global box office chart, thanks to a weekend session delivering an estimated $3.3m in North America, $13.4m for international, and $16.7m combined. Totals are $25.1m in North America, $49.2m for international, and $74.3m globally.
Matthew Vaughn's spy action prequel, which is set before and during the First World War, expanded from 21 to 43 international territories, adding key markets Germany, Italy, Australia and Brazil. The film opened in second place in Germany (behind Spider-Man: No Way Home) with an estimated $1.6m, and remained the second-placed film in both UK/Ireland and France (likewise behind No Way Home).
The King's Man fell 42% overall in international holdover markets. In cumulative totals, South Korea leads the international rankings with $7.8m, ahead of UK/Ireland ($7.3m), Japan ($6.4m), France ($4.1m) and Taiwan ($3.9m).
The coming weekend sees the film open in Russia, Ukraine, Netherlands, India, Ecuador and Chile.
Vaughn's original Kingsman: The Secret Service grossed $414m worldwide in 2014, and sequel Kingsman: The Golden Circle reached a very similar $411m in 2017.
Disney scores Russia hit with 'The Last Warrior 3'
Disney is enjoying a strong local hit in Russia/CIS with action adventure The Last Warrior 3 (aka Posledniy Bogatyr 3, aka The Last Warrior: A Messenger Of Darkness). The film has grossed 1.9bn Russian roubles ($25.0m) since release on December 21 – already making it the 20th highest grossing local film of all time in Russia and getting close to the previous chapter's final tally of RUR2.1B, which it should surpass in the coming days.
Dmitriy Dyachenko has directed all three films in the series, which began in 2017 with The Last Warrior and continued in January 2021 with The Last Warrior: Root Of Evil. Viktor Khorinyak stars as Ivan, an orphan in modern-day Russia who in the first film miraculously wakes up in the ancient kingdom of Belogorie, where he embarks on a perilous quest. The new film sees Ivan ready to marry the beautiful Vasilisa (Mila Sivatskaya), but when she is kidnapped and trapped in modern Moscow, he and his friends must travel to the present day to rescue her.
Chinese titles tumble in global rankings
A dearth of new releases in China saw Chinese films fall down the global rankings – which they had dominated the previous session, with three titles in the top five chart.
Embrace Again fell to fourth place in the global rankings, G Storm to sixth and Another Me to seventh. All grossed in the $8-11m range for the weekend session.
Embrace Again revolves around stories of a group of ordinary people during the early months of the Covid-19 outbreak in Wuhan. G Storm is the fifth and final instalment of a Hong Kong crime thriller franchise from David Lam, which previously saw the films Z Storm, S Storm, L Storm and P Storm. Comedy Another Me stars Chang Yuan in a dual role – as an ordinary man and the prince whom he resembles.