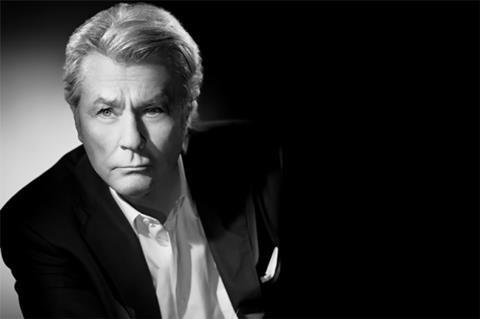 Controversial French actor Alain Delon declared it was the women he had met throughout his life who had propelled him to success as an actor, at a masterclass in Cannes on Sunday as the festival proceeded with its tribute to the French star in spite of protests by #MeToo activists.
The actor will be feted with an honorary Palme d'Or on Sunday evening. He has appeared in seven competition titles over his 60-year-career, including Luchino Visconti's Palme d'Or winning The Leopard, but has never won best actor.
The decision to celebrate Delon's career has sparked criticism from #MeToo activists who have branded him a misogynist, homophobe and a racist over comments he has made publicly about slapping women and gay marriage in the past.
A petition asking the festival to abandon its plans to give him a Palme d'Or has garnered some 20,000 signatures.
The French media reported on Sunday that actress Salma Hayek would not be attending the ceremony this evening as planned because the celebration of Delon does not chime with her position as a leading #MeToo and gender equality activist.
Overall, however, the French response to the calls for Cannes to ditch its honouring of Delon has been muted, with few media outlets getting behind the protests.
Standing ovation
The 83-year-old was greeted with a standing ovation as he entered the Salle Buñuel theatre at the top of the Palais des Festivals for the masterclass, which was packed with mixed gender inter-generational crowd.
Introducing the actor on stage, Cannes delegate general Thierry Frémaux made no reference to the protests surrounding the decision to fete Delon, saying instead that the actor's presence at the festival filled it with "joy, pride and happiness".
"The expression monstre sacré (sacred monster) cannot be applied to many people. We could say this very expression has been invented for him [Alain Delon]," said Frémaux
"We're overjoyed to have him back at Cannes. I don't think there are many people in this room who can say they came to Cannes before Alain Delon. He has been here since the 1950s and has remained faithful to the festival in the same way that the festival wants to demonstrate today that it is faithful to him."
The hour-long masterclass, presented by Le Monde journalist Samuel Blumenfeld, focused on the early years of Delon's career, from his 1957 big screen debut Send a Woman When The Devil Fails to the 1976 feature Mr. Klein, which screens tonight as part of the tribute.
Delon told that his audience he had fallen into cinema by accident on returning from military service in Southeast Asia [then Indochina], after being introduced to the cinema scene by an early girlfriend, who took him to Cannes, introducing him among others to the actor and director Jean-Claude Brialy.
"I came down with a girl that I liked, who loved me… I took it all in, did the red carpet but even then, I felt at home… not least and I say this without pretension because it was made clear to me that I was not bad-looking."
He continued: "When I came back from Indochina I didn't know what I want to do. If I hadn't met the women I met, I would have died long ago. It's the women - I don't know why - who loved me, who got me into this profession, who wanted me to do it, and who fought for me to do it."
In another anecdote, he recounted how it was Réné Clement's first wife Bella Gurwich who had sealed the deal for his breakthrough role as Tom Ripley in the 1960 hit Plein Soleil, after a furious argument at the director's house with the producers who had assigned him a lesser role.
"It got heated… and I told them would have to find someone else for the role they were offering… there was a silence and then from the back of the kitchen, came Bella's voice, 'Réné, le petit a raison'," said Delon, saying her words won him the role.
The Delon tribute continues this evening with a gala screening of Joseph Losey's 1976 drama Mr. Klein revolving around the subject of the 1942 Vel' d'Hiv Roundup, or rafle, in which 13,152 Jewish people were rounded up and held in the Paris velodrome before being deported to concentration camps.
Delon stars as an art dealer, who is making a fortune off the back of French Jews forced to sell their artworks to raise money to escape the Nazis, until he finds himself identified by the authorities as being Jewish too.