Star Trek Beyond holds firm; Shallows and Nine Lives open in second and third.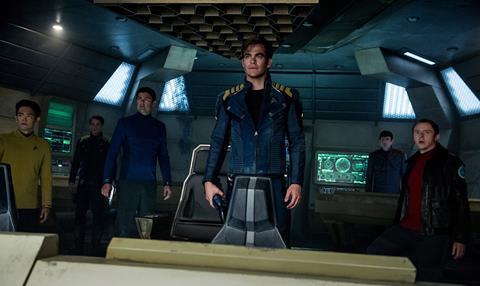 Star Trek Beyond held onto the top spot in its second week, taking $22.22m in the period of Sept 5 - 11. The sci-fi sequel from Universal has shot to $52.46m after 10 days.
The Shallows and Nine Lives finished neck-and-neck in second and third places respectively. Sony's woman-vs-shark thriller opened with $8.23m, while EuropaCorp's fantasy comedy launched with $8.03m, both from their first three days.
Ice Age: Collison Course dropped to fourth with $4.14m, bringing its 20-day total to $61.96m. This made China the leading overseas market for the family animation from Fox.
Japanese sci-fi horror Parasyte held steady in fifth with $2.96m. With a 10-day total of $6.62m, it has surpassed Flying Colours to become the highest grossing Japanese live-action film in China.
Three holdovers occupied the next few places, including Jason Bourne on $2.79m for $64.76m after 20 days; Days Of Our Own on $2.13m for $5.73m after 10 days; and Line Walker on $1.42m for $88.89m after 32 days.
Two new titles rounded up the weekly top 10. British sci-fi comedy Absolutely Anything opened with $0.94 from its three-day opening weekend, while Hong Kong animation McDull - Rise Of The Rice Cooker grossed $0.69m from previews only.
Following the end of the school holidays, last week saw a significant drop in ticket sales by approximately 32%, making it the worst performing week of 2016 so far.
While Hollywood films have been topping the Chinese box office for a few weeks, a reversal of fortune is expected when a string of Chinese-language films hit cinemas from Wednesday, ahead of the Mid-Autumn Festival long weekend. These include A Chinese Odyssey: Part Three, Cock And Bull, S Storm and Soulmate (all on Sept 14), followed by McDull - Rise Of The Rice Cooker and My War (Sept 15).