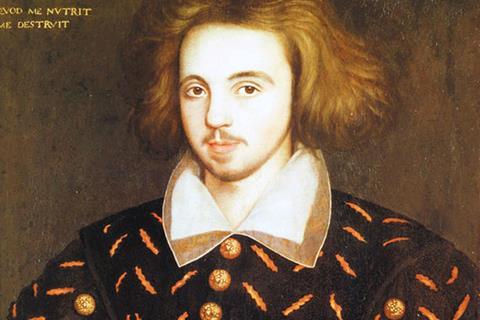 Star Wars and The Empire Strikes Back producer Gary Kurtz is lining up a drama based on the life of the Elizabethan playwright and spy Christopher Marlowe.
Los Angeles-based Wolfmill Entertainment and The Kit Marlowe Film Co, registered in England and Wales, plan an autumn shoot, mostly in Wales. Lightyear Entertainment of Los Angeles will distribute in North America and released foreign language Oscar nominee Tanna in 2016.
Greg Hall will direct the project from a screenplay by Francis Hamit that chronicles Marlowe's life, from his time as a student at Cambridge University to his duel careers as a playwright and William Shakespeare contemporary, and a spy.
The script will espouse the notion that Queen Elizabeth ordered the assassination of Marlowe in 1593 as a matter of state politics, contrary to long-standing belief that he died in a bar fight at rthe age of 29.
"Marlowe is a tragic figure, undone by his own fatal flaws," Hamit said. "Despite the passage of time, it is a story which will resonate with today's audiences."
Hall added: "The storyline is quite dynamic. It's more about the secret underworld of spies and criminals that Kit Marlowe embraced at the same time he was social climbing with very prominent men such as Sir Walter Raleigh and Sir Francis Walsingham, the Secretary of State, and the most powerful man in England. It is going to be a very exciting production and we are casting it now."
Lightyear CEO Arnie Holland serves as executive producer alongside Michael John Donahue and Craig Miller, CEO of Wolfmill Entertainment.