Star Wars: The Last Jedi will be IMAX's widest ever release, the company has confirmed.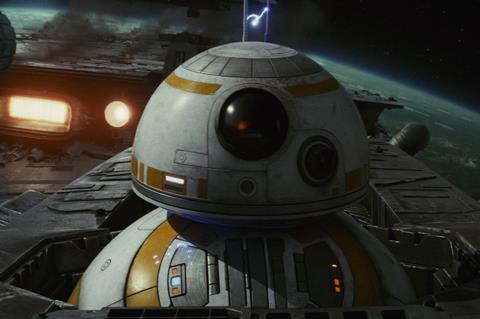 The film will surpass Disney's franchise relauncher Star Wars: The Force Awakens, which opened in 937 IMAX screens, including 392 in North America and 270 in China.
The Last Jedi will initially be rolled out into 776 IMAX theatres across 68 countries this weekend, and China will add approximately 500 cinemas when it opens there on January 5, taking the total to more than 1,200.
The film has also clocked up the second-highest number of pre-sales for an Imax release in the company's history.
IMAX CEO Richard Gelfond confirmed to Screen that the film had surpassed the numbers racked up by Christopher Nolan's Batman threequel The Dark Knight Rises (ahead of its release in 2012) both domestically and globally.
The only film ahead of The Last Jedi in terms of pre-sales is Disney's franchise relauncher Star Wars: The Force Awakens, which opened to a record $48m box office from Imax theatres globally. It also posted a record single day of $17.7m in IMAX cinemas on its first Friday (Dec 18, 2015).
Avatar remains the highest-grossing IMAX film of all time, on more than $220m.
Gelfond was in London last night (Dec 13) for the European premiere of The Last Jedi, which was screened on a specially-assembled Imax screen at the Royal Albert Hall.
Cineworld acquisition
Gelfond also commented on the recent news that UK exhibitor Cineworld is set to create the world's second-largest cinema chain with its $3.6bn acquisition of US chain Regal.
"Cineworld has proven to be a really strong operator in Europe. That acquisition will be good for the North American market and for the business in general because Cineworld will put a focus on the consumer experience," Gelfond said.
"For Imax, I think the consolidation in the market has been good," he continued, also referencing the acquisition of Odeon & UCI by AMC in 2016. "All the acquirers are in the Imax business. Creating stronger hands is ultimately a good thing for us and the industry."
Commenting on the overall health of the market, Gelfond compared predicting box office year-on-year to "a farmer predicting the weather", but said that consolidation in the market was "positive structural change and good for the business".