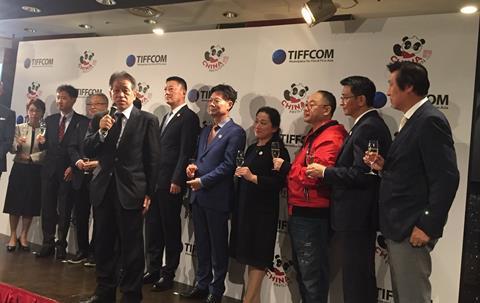 Japan's Sedic International is in talks to remake Uberto Pasolini's Still Life as a Sino-Japan collaboration, one of many projects currently being discussed between Japan and China as the two Asian powers explore ways of working together.
The remake was flagged up during TIFFCOM's China Day, which comprised a series of seminars, presentations and a networking event, and follows the signing of an official co-production agreement between China and Japan in May 2018.
Sedic's Toshiaki Nakazawa (Departures) is currently discussing the Still Life remake with Chinese partners, including WeF Cultural Investment, which organised a presentation at TIFFCOM.
The original UK-Italian co-production, about a man responsible for tracking down the next of kin of people who have died without leaving a will, won best director in the Horizons section of the Venice Film Festival in 2013. The Japanese-language remake – the first of two China-Japan projects that Sedic is developing – will be directed by Nobuo Mizuta and distributed by Sony Pictures in Japan.
Launched in April 2019, WeF Cultural Investment is a development and investment firm, founded by state-owned Qingdao and Beijing entities, which focuses on China-Japan collaboration.
The company's TIFFCOM seminar also included a presentation by Qingdao Oriental Movie Metropolis, the studio facilities formerly owned by Wanda Group, which have housed productions including Pacific Rim 2 and Chinese sci-fi blockbuster Wandering Earth.
Now owned by Sunac, which stepped in when Wanda was forced to reduce its debt load, the studios offer a 40% rebate for productions that shoot in Qingdao, on a minimum qualifying spend of $4.2m (RMB30m).
In a second China Day forum, Japanese director Yuya Ishii talked about the project he is working on with China's Heaven Pictures, B2B A Love Supreme, through which six prominent Asian directors have been commissioned to make a high-quality film on a low budget.
Speakers at the forum also included Chiaki Noji, China head of Japanese studio Shochiku, which is also exploring China-Japan collaborations, and Chinese filmmaker Zhang Yibai, who directed one of the first Sino-Japanese co-productions, The Longest Night In Shanghai, in 2007.
Although all the speakers were touting the potential of the world's second and third biggest box office markets working together, they were also realistic about the big differences in culture and working practices between the two countries.
"We don't have the same sense of timing," said Noji. "For co-production to be successful we have to be aware that our ways of working in terms of investment and production processes are different."
Zhang added: "There's a lot of cultural conflict we have to go through and we've discovered that you can't make projects that are equally relevant to each side. You have to decide whether you're focusing on the Chinese or Japanese mindset."
Nonetheless, Sino-Japan collaboration has been flourishing since political relations between the two countries has thawed and Korean content has effectively been banned in China. Between 15-20 Japanese films are being released theatrically in China each year and more Chinese productions are shooting in Japan and vice versa. Zhang said he'd just visited the set of Chinese action comedy Detective Chinatown 2, which is currently shooting in Tokyo.
In addition, Japanese broadcaster NHK recently filmed a two-part TV movie A Stranger In Shanghai, in China using 8K technology. Directed by Taku Kato, the films stars Ryuhei Matsuda as a writer in 1920s Shanghai.
China Day wrapped up with the TIFFCOM-China welcome party in the Sunshine60 building, with panoramic night-time views of Tokyo, attended by government officials and industry professionals from both sides.