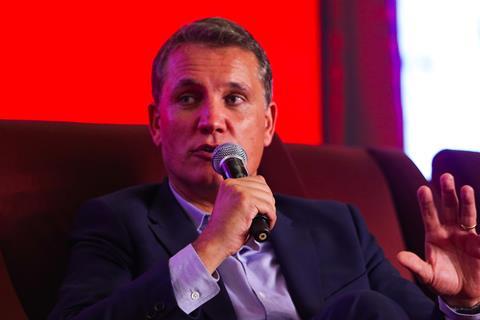 Former IM Global chief executive officer Stuart Ford has launched AGC Studios, a new Los Angeles- and London-based film and TV production and international licensing company.
The venture's initial backers are Image Nation Abu Dhabi, Symantec chief executive officer and Fibonacci Films chairman Greg Clark and Latin American private asset management firm MediaNet Partners.
Ford's partner in the new company is former IM Global chief financial officer Miguel Palos, who will be the company's chief operating officer.
AGC Studios will develop, produce, finance and globally license features, scripted, unscripted and factual television and digital and musical content. The company said its output will have "a wide-ranging multicultural focus."
The venture's AGC Productions division will develop and produce mainstream English-language film and TV projects and have sub-divisions focusing on material for Latino and urban audiences and music-driven IP.
AGC International will be the venture's film and TV licensing and distribution platform and AGC Capital will provide development, production and post-production financing to in-house projects and select third-party productions.
Ford, a former entertainment attorney and studio executive, founded IM Global in 2007 but left the company last August, reportedly after a strategy disagreement with Tang Media Partners, the Chinese company that bought IM in June 2016.
In a statement, Ford said of his new venture: "Amidst unprecedented levels of evolution in the entertainment industry, AGC Studios' state of the art and highly flexible business model allows us to create and efficiently distribute a prolific array of premium film and television content. We're fortunate enough to have a committed trio of top class international backers who share my vision for where the industry is headed and how AGC can maximize this incredible market opportunity."
MediaNet partner Juan Aguerrevere said: "Our two main goals are to invest in talent and to find true partners along the way. In Stuart we have found both in spades. His proven track record and understanding of the industry and its changing nature is second to none. We look forward to working with Stuart in this new adventure."
Clark - whose Fibonacci Films has The Chaperone, written by Julian Fellowes, and Paul Schrader's First Reformed on its 2018 slate - said: "We are excited to partner with Stuart and his team. Stuart is a distinguished leader in the industry and an excellent steward to navigate the structural changes that are happening across the entertainment business. Stuart and his team's experience, business acumen and creative capability are exemplary."
Image Nation head of narrative film and television Ben Ross added: "Over the last few years, Image Nation has enjoyed a close partnership with Stuart and we are pleased to be a founding investor in his new venture. We believe AGC Studios is in a unique position to capitalize on the changing trends in the marketplace."