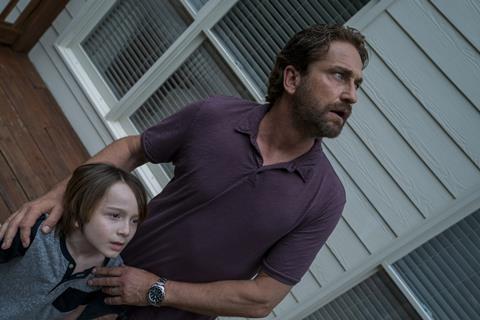 STXfilms has bought global rights to disaster action sequel Greenland: Migration from Anglo-French production and sales company Anton in a deal worth a reported $75m.
The Cannes virtual market deal will reunite STX, which released the original Greenland last year, with the first film's stars Gerard Butler and Morena Baccarin and director Ric Roman Waugh, who also directed Butler in Angel Has Fallen.
The sequel, which will start production next year, will continue the story of the Garrity family as they leave the safety of their Greenland bunker to make a perilous journey across the frozen wasteland of Europe.
The film will be produced by Thunder Road's Basil Iwanyk and Brendon Boyea, G-Base's Butler and Alan Siegel, and Anton's Sebastien Raybaud and John Zois.
Anton, which is fully financing the film, oversaw the international deal and co-represented the US rights with CAA Media Finance.
The original Greenland grossed $53.5m internationally for STX and its partners and was sold to streamer HBO Max in the US.
Anton CEO Sebastien Raybaud said: "STX and their partners did an incredible job of launching the film worldwide last year and we are thrilled the sequel will return 'home' for the exciting next chapter of this must-see adventure."
STX Motion Picture Group chairman Adam Fogelson added: "Gerry, Morena, Ric, Basil and Alan were fantastic partners on the first film and we look forward to building on the success and momentum as we work together with Anton to deliver another effects based spectacle driven by great characters and performances. What comes next for the Garrity Family is even more thrilling."