Craig Roberts' directorial debut Just Jim and a feature from Doctor Who and Broadchurch director Euros Lyn among three projects selected to go into production by Welsh talent scheme.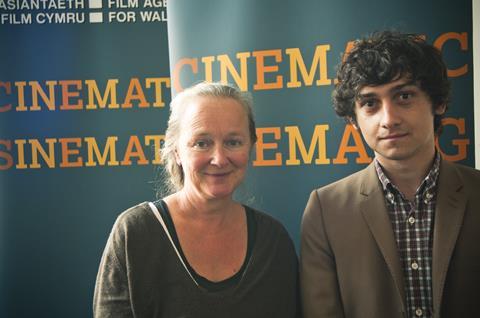 Film Agency for Wales' emerging talent scheme Cinematic has announced the three projects to progress through to production, following the first round in October.
Craig Roberts' writing/directorial debut Just Jim, Chris Crow's psychological thriller The Lighthouse and Euros Lyn's Welsh-language Y Llyfrgell (The Library) will be put into production over the next 18 months.
Cinematic also encourages a market focus from an early stage with the help of Soda Pictures.
Just Jim is the first feature from Submarine star Roberts and is about an enigmatic new neighbour who turns a teenage loser's life upside down. Producer is Pip Broughton.
The Lighthouse is described as "a disturbing story of death, isolation and neurosis" based on "one of the most infamous incidents in Welsh maritime history".
Horror director Crow, best known for 2011 thriller Panic Button, co-wrote the filmwith Michael Jibson. Producer is David Lloyd.
Y Llyfrgell (The Library) is a revenge story about twin daughters who set a trap for their mother's murderer in the National Library of Wales.
Scripted by award-winning novelist Fflur Dafydd, it will be directed by Lyn, who has directed several episodes of BBC sci-fi series Doctor Who, Sherlock and hit ITV crime drama Broadchurch, starring David Tennant and Olivia Colman.
Steve Jenkins, BBC Films, commented: "The three projects are excitingly diverse in genre and ambition, from dark teen comedy to period thriller, but with a real Welsh specificity in terms of story setting and, of course, talent. A great combination."
"There's terrific talent across the projects so it's exciting to be able to provide a broader canvas for them to develop their style and approach," added Pauline Burt, chief executive of Film Agency for Wales.
Ben Roberts, BFI Film Fund director, said: "We were all impressed by the range, quality and originality of voices shown throughout the submissions, but felt that these three filmmakers and projects stood to really benefit from the valuable market-focussed opportunities offered by Cinematic."
The Film Agency for Wales devised and developed Cinematic in partnership with the BFI Film Fund, BBC Films, S4C, Soda Pictures and Creative Skillset to support emerging filmmaking talent from Wales in making "contemporary, dynamic and distinctive feature films" with budgets of around £300,000.