History-focused 28th edition of documentary and factual content event runs June 19-22 in La Rochelle.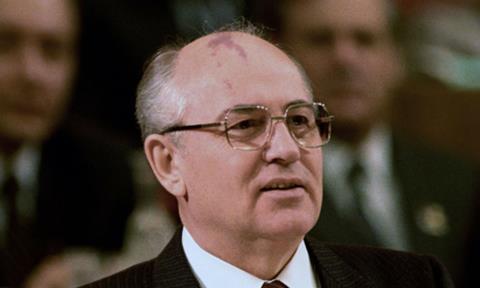 Upcoming documentaries exploring the life of Mikhail Gorbachev, the space race and Jackie Kennedy's anti-segregationist work will be among the projects being presented at this year's Sunny Side of the Doc (SSD) this year.
The 28th edition of the documentary and factual content market and conference, running June 19-22 on the historic docks of the picturesque French port town of La Rochelle, is putting the onus on history this year.
The focus is in keeping with SSD's four-year cycle alternating the annual theme between history, science, human interest and wildlife. But the fact the history theme falls this year is also timely, comments founding director Yves Jeanneau.
"The phrase 'reinventing history' sums up what's going on at the moment. We're witnessing a renewal and rejuvenation in the way history is being told, both in terms of story-telling and the use of new technologies. We've seen a wave of new programmes such as Mutiny experimenting with new ways of re-telling historical events," he says, referring to Channel 4's historical reenactment of Mutiny On The Bounty.
"A second reason is that politically, whether it's due to Trump, Erdogan, Putin or Xi Jinping or other events in our own countries, history is becoming increasingly political due to the rise of fake news and historical revisionism. It's a challenging environment for documentarians looking at history."
Beyond this, a number of key historical anniversaries — ranging from the centenary of the Russian Revolution, May '68 in France, and the 25th anniversary of Los Angeles riots — fall this broadcasting season and over the coming 18 months, so producers, broadcasters and other factual distributors are particularly focused on history at the moment, notes Jeanneau.
The Enigma of Mikhail Gorbachev, for example, a portrait of the statesman who oversaw the dissolution of the Soviet Union which is due to be presented in the history pitches on Tuesday (June 20), will be ready in time for 30th anniversary of the dismantling of the bloc in 1989.
It is the latest project from prolific UK documentary producer and occasional director Andre Singer, under his London-based Spring Films banner, after recent works such as Night Will Fall and Where The Wind Blew, about Soviet nuclear experiments on the Kazakh steppes.
Other history pitches include The Six: Titanic's Chinese Survivors, produced by Shanghai-based Lost Pensivos Films, and hybrid work Captain's Heart by Danish artist and filmmaker Simon Bang, bringing to life the diaries and records of his ship captain grandfather Knud Goth.
Bang is well-known in the Scandinavian film industry as a storyboard artist, collaborating most recently on features such as Borg and Tom Of Finland.
Singer will also be participating in a panel on Tuesday entitled "5 Minutes Before - Delving Into The Truth Through Archives", discussing the challenges around obtaining and verifying archive material.
Other history-themed talks include a masterclass on the use of archives for Ron Howard's documentary The Beatles: Eight Days A Week – The Touring Years, by archive expert and co-producer Matthew White and Jonathan Clyde at key backer Apple Corps, and a discussion on presenting history content via innovative story-telling formats to draw in younger generations.
Digital Age
Another key focus of this year's Sunny Side is how new digital formats and experiences are changing the way in which factual content is presented at every level.
"I was keen for this edition to explore the new media formats and technological experiences growing up around the factual sector, not least because they appeal to a younger public. Even if this edition is focused on history, it's also an edition of rejuvenation," says Jeanneau.
At the heart of this focus is a new space called PiXii exploring interaction, immersion and innovation in the realm of factual content.
Key exhibits in the space will include the premiere of a collective VR experience called Le Cube.
"It's a cylindrical space - some nine metres in diametre - in which up to around 20 people can participate collectively, without glasses or a mask, in an 360 experience with interactive elements," explains Jeanneau.
"What I find interesting about the concept is that it's 'nomadic' and could be easily transported to a school playground, cultural space or community hall."
It is produced by Marseilles-based Black Euphoria and Paris-based Bachibouzouk.
Other installations include an interactive VR exploration of Mars by Réseau Canopé and the educational programme Ocean School.
Talks on documentary and the digital sphere include a discussion of financing for innovative content revolving around Agat Films/Ex Nihilo and the recent production Notes On Blindness: Into Darkness, which it co-produced, and its upcoming VR work Titan.
For the first time, Google News Lab is participating in SSD.
It is sponsoring a panel on VR and Journalism featuring Louis Jebb, founder of the immersive news coverage start-up Immersivly Ltd.
The French branch of the Google initiative - set up in 2015 to foster crossover between technological innovation and media - will also present its first global VR audience study during SSD.
The results of the study — aimed at looking at how VR storytelling affects those who experience it — will be unveiled on Thursday. The event will be broadcast on Facebook Live on Thursday.
Other highlights of the 2017 edition of SSD include a rekindling of the event's links with China involving the creation of the large 'Feeling China' pavilion housing ten different Chinese broadcasters as well as China-based VR specialists Scentrealm and VRTimes.
There are also large delegations from Canada, Germany, the UK, Thailand and Brazil.