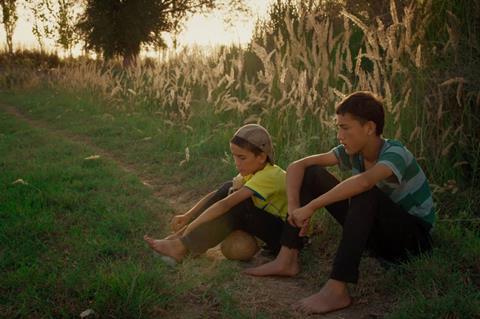 Taiwan-based Flash Forward Entertainment has acquired all rights outside China to A First Farewell, which is set to world premiere in Asian Future competition at the upcoming Tokyo International Film Festival.
The film is Xinjiang-born Lina Wang's directorial debut, which is about a Muslim farm boy's friendship with a lively little girl, his relationship with his deaf-mute mother, and his subsequent separation from both of them. Through this coming-of-age story filmed in Uighur language, Wang pays tribute to her hometown.
"It is the first independent Uighur film from China's Xinjiang Province by a homegrown female director," says Patrick Huang of Flash Forward. "With a rarely-seen Xinjiang theme and a poetic realism style, it has the feel of an Iranian film."
Shanghai Eternity Media & Culture, a main producer of the film, keeps the China rights.
This acquisition deal marks a new direction of Huang's Flash Forward which he founded in 2002 as a distributor of foreign films in Taiwan. A decade later, he ventured out into international co-productions with Myanmar-born Taiwan-based director Midi Z in films such as Poor Folk and The Road To Mandalay.
Now he is actively picking up titles for international sales. His company is presenting a slate of Chinese and Taiwanese films at TIFFCOM.
These include Qiu Sheng's Suburban Birds, which was named best narrative feature at this year's Xining FIRST International Film Festival; Jade Y Chen's Looking For Kafka, which was in Shanghai's Asian New Talent competition this year; Zhou Shengwei's stop motion animated feature SHe from Shanghai's main competition; David Verbeek's An Impossibly Small Object, which was in Rotterdam's Big Screen Awards competition this year; and A Rolling Stone director Shen Ko Shang's latest documentary Love Talk.