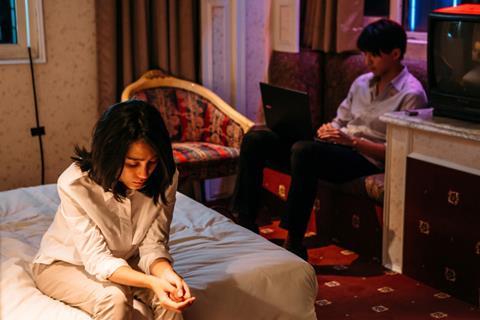 Busan's New Currents title The Last Verse [pictured] is one of the first titles produced by Taiwanese broadcaster Public Television Services (PTS) as part of its latest initiatives to groom new local talents.
The PTS Originals, launched earlier this year, bears a special theme about the social issues of how young people face poverty.
Produced under this new banner, the feature debut of Taiwanese director Tseng Ying Ting follows a young couple from 2000 over the course of 16 years during which they witness not only four Taiwan presidents come and go, but also the impact of the political instability and economic downturn on Taiwan's society.
"When we look back in retrospect, we realise poverty was escalating in a seemingly well-off society and the young generation felt hopeless," says Tsang. "Just like in the story, the couple are in love, but misfortunes keep befalling them. I hope we could create a better future for the young generation."
Commissioned by PTS as a telemovie, The Last Verse has earned two Golden Bell awards in Taiwan this year, including best actress for Wen Chen-ling and best actor for Fu Meng-po for a mini-series.
PTS has previously produced telemovies under different banners for then new directors such as Yang Ya-che whose latest film The Bold, The Corrupt And The Beautiful will also world premiere in Busan and is nominated for seven Golden Horse Awards.